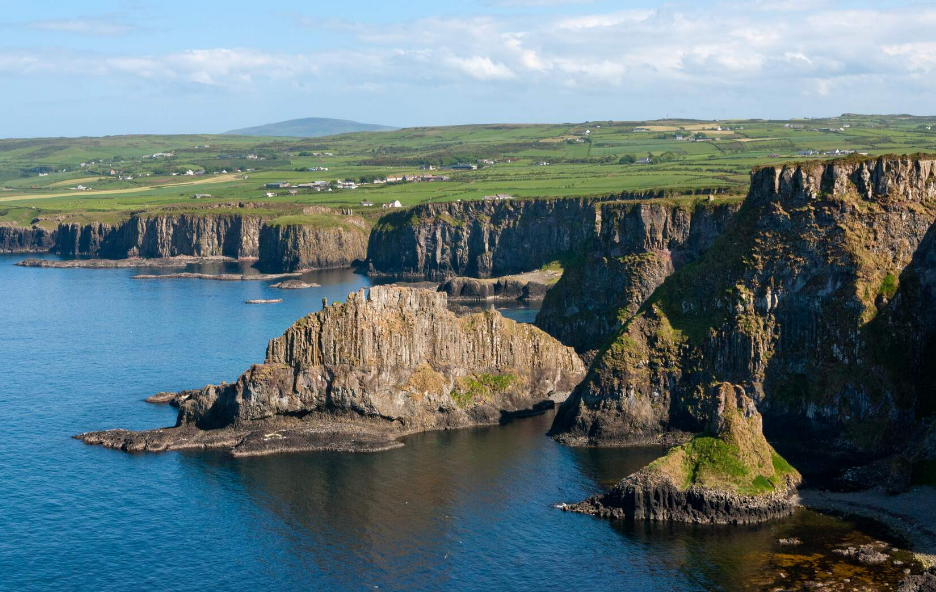 26 Extreme Causeway Coast Ultra 
Way back in August 2021 while I was visiting Ireland, I went out for my usual steady paced run along part of the Antrim Coast Causeway path, which is a mainly trail route that runs from Portstewart Strand beach to Ballycastle in Northern Ireland, passing through the Causeway Coast an area of outstanding natural beauty, a world heritage site and several areas of special scientific interest. It includes views of wide bays, sandy beaches, dramatic cliffs and off-shore rocks. Whilst running I came across a sign for a 40 mile ultra-marathon due to take place in September 2022. I fancy a shot at that I thought, so I signed up as soon as I got home. The email on booking I received from the organisers was quite explicit in stating that they would not spam with loads of emails and would be in touch nearer race time. I completely forgot all about the race until I received an email in mid-August from the organisers, 26 Extreme. Gulp! This race had somehow completely slipped my mind and had not specifically been training for it, but I had done 2 marathon training blocks and a good few longer races on the West Highland Way this year, so thought I would be fine. I got all the travel and accommodation sorted and went out for one final 30 mile run 3 weeks before race day.
The Race
The Causeway Coast Ultra marathon starts on Portstewart Strand beach, then heads 13 miles or so to the seaside village of Portballintrae. From there the route travels 13 miles along the north coast coastal trails and paths (with cow fields, stiles, rocks, steps, seaweed, stones and sand) to the halfway point at the Carrick-a-Rede Rope bridge, before it turns back and retraces a similar route back to the Portballintrae, so 40 miles ish in total. The main attraction along the course is the Giant's Causeway, a national park in Northern Ireland with huge hexagonal basalt pillars rising up out of the sea. Much of the rest of the course goes along tall cliffs, with grass and grazing sheep on one side of the trail and a sheer drop of hundreds of feet into the water on the other side. There are some steep climbs, but there were also a lot of flat sections, and the total elevation change for the course is only about 5500ft, but it is still a very tough course.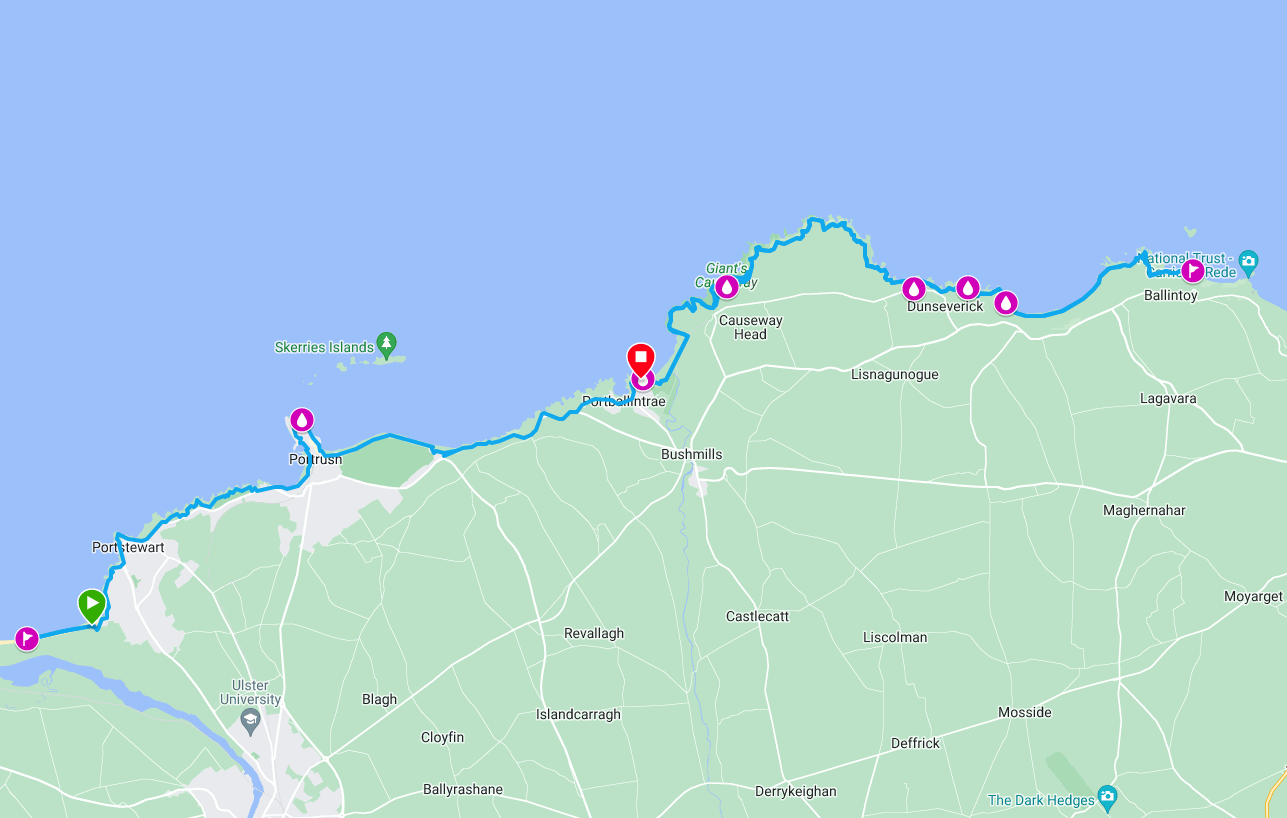 The Start Portstewart to Portballintrae : Mile 0 to 14
The race starts at Portstewart Strand Beach, where runners are bussed from race HQ at Portballintrae, 14 miles away. I parked the car at the race HQ the night before, so was able to amble down to the start at a more reasonable 6:30am for a 7am start. The start of the race was very low key, basically a line was drawn in the sand, the starter told us to keep the sea to our left and don't go near the cliff edges unless we had a parachute, then we are off running away from Portballintrae along the beach for a mile or so, then turning around to head back to the start and towards race HQ. Once off the beach the first 13 miles of the Ultra are a mixture of sandy beaches, coastline, promenades, seaside parks and a bit of road, relatively speaking easy going in comparison to what was to come. I took it very easy up to Portballintrae, conserving energy for the harder parts of the race to come. The highlight of the first 13 miles is the run along the stunning Portrush beach, which has a regular but tough parkrun every Saturday. I kept well fuelled this time (always an issue with me) using the very expensive!!! Maurten gels for the first time, which worked well. I also snacked on Jelly Babies and Hula hoops, as well as sipping on electrolyte drinks, and all in all as I headed into the race HQ start at Portballintrae I felt good.
Portballintrae to Ballintoy : Mile 14 to 27
After running through the start at race HQ the character of the route changed and I now found myself in an area of outstanding natural beauty. Underfoot conditions changed from mainly trail/concrete to stony and very rocky in places, with some of the route not very runnable! It became apparent that to conserve energy and get to the finish in good shape I would walk/jog some of the uphill sections. Over the next 3 miles or so I travelled up and down, always on our left stunning bays, high cliffs, white rocks, and blue seas and skies. The views were simply stunning, and I now wish I had taken more pictures, but was probably suffering from Ultra Marathon brain as tiredness kicked in. After 3 miles or so I reached the Giant's Causeway and was excited to run through it amongst the hordes of bemused American tourists! Once passed the causeway itself, there was the small matter of 160+ steps with switchbacks, up from the causeway to the top of the cliffs to head towards the Carrick-a-Rede Rope bridge at Ballintoy. Once up the steps (walking off course) there was a long stretch atop the cliff which was actually a little scary due to the strong breeze, but it was also beautiful, just amazing scenery along all these little inlets. I eventually turned into a grassy descent, that came back down to the water's edge.
After the descent back down to sea level, at about 24 miles, the course really takes a turn for the worse and becomes unrunnable! The race went into a big field of rocks all slippery with seawater and my pace slowed to a crawl. The Causeway Coast Ultra is one of 5 events that take place on the same piece of stunning coastline on the same day. Ultra, Marathon, Half Marathon, 10k and Challenge Walk, something for everyone. This is where the marathon and ½ marathon runs tend to converge, so around this point I was starting to see the pack of marathoners and some of the half-marathoners, coming in the other direction. The rock field lasted for what seemed like an age and my ankles definitely felt every tentative step, and I knew I had to negotiate the rocks on the way back also!
After the rock field, the route was along a wide-open sandy beach, so there was plenty of space for me to go around the marathoners and ½ marathoners coming in the opposite direction. This was a great boost as we cheered each other and I heard shouts of "well done Ultra" and even managed a few hugs, it was super friendly and a real boost at this point after the rock field! I was still feeling strong with 3 miles to go to the turnaround for home. I was still feeling great but had slowed down a lot so was starting to worry a little bit about the time cut-off point at Ballintoy and the turn back. I remembered the cut off was set at 6 hours and I was well within that at 5 ½ hours, with the next cut off at 7 ½ hours but that was only 6 miles away, so all good on that front. The section of beach led on to Ballintoy Harbour and eventually on to Ballintoy Quarry, the turnaround spot. Now that I have got this far, I know I will get back. I now know exactly what awaits on the return leg. I stock up on some salt (Hula Hoops), sugar(cake and gels) and water.. a good few cup fulls and top up of the bottles I was carrying, then off on the road back to start HQ. 5 ½ hours in, a marathon done and another half marathon to do. Onwards and upwards, out of Ballintoy quarry and head for home. Only an undulating, rocky, sandy ½ marathon to go and I feel good!
Ballintoy to Portballintrae : Mile 27 to 40
The beach section was a little bit easier on the way back due to the outgoing tide revealing wet hard packed sand and I ran a good proportion of it, albeit slowly. The rocky section was again safely negotiated but very, very slowly as I was cautious on the rocks. Not looking for a twisted ankle at this stage! I headed back to the drop bag point at Dunseverick Harbour, about 32 miles in, well within the 7 ½ hour cut off point, for more sustenance and fuel to get through to the end. After the bag drop, I was again running along undulating cliff tops with stunning views (have I mentioned that already?). I had now adopted a run/jog/walk strategy and was running as much as I could due to the old quads complaining a lot, and even the down bits were tough, but I soldiered on. Run the flats, jog the inclines, walk the hills and repeat.
The course on the way back thankfully does not drop back down to the Giants Causeway, result!!! staying instead on the upper cliff path, a real relief. Nearly home! One last water stop with 3 miles to go and one more cliff top convolution and the town of Portballintrae comes into view. I could hear the finish line PA in the wind welcoming marathoners etc. across the finish line. One last push for home! Another sandy beach lay ahead, and I couldn't remember if this was run on the way out, it must have as my ultra-fog brain had really kicked in! Thankfully the beach is bypassed by means of a sand dune boardwalk. I picked up the pace, across a bridge and up a little hill to the finish and a great welcome, with a personal shout out from the PA, then across the line for a medal and a bottle of beer. I felt so lucky, yes my legs were tired, but I had no blisters, no injury or any major aches or pains, I felt strong, tall and so happy to be able to complete this awesome race in 8 Hours and 50 Minutes. To put that time into context, I completed the 33-mile Glen Ogle Ultra November 2021 in 5 Hours and 7 Minutes, so it took me 3 ½ hours more to run the extra 7 miles of the Causeway Coast Ultra, although I did spend far too long faffing about at the bag drops this time!
I grabbed my drop bag that was now back at the start (well organised) headed for the car, just jumped in a drove straight home! Quick bath then off to Portstewart Golf Club for the best fish and chips ever, washed down with a few Guinness!
I would highly recommend this race. It is a great day out, but be prepared to be in your feet for many hours. It is definitely a challenge, but a wonderful way to see Northern Irelands amazing Causeway Coast.
Back for 2023?
Video of the race from a few years ago