Allan Scally Memorial Road Relays
Why Race The Allan Scally Road Relays?  A race recommendation from Sue Walker
The Allan Scally relays are one of the classic relays in Scotland. It's a 4 leg relay with each leg covering 5km (traffic free and flat) in Glasgow Green.  It also hosts the Scottish University Relays Championships and has a wide prize range.  Teams can be 4 men, 4 women or 2 men and 2 women.  Entries cost £32 per team.
Relays are great ways to race as a club and 5km is a very accessible distance!  It would be wonderful to see multiple teams entered from Carnegie.  The race takes place on Saturday 5th March 2022.
Lots of race and race history information can be found here, and information can be found about Allan Scally and his family  here  You can even see Allan Scally running in this old Pathe news clip from 1932 Powderhall marathon 1932  (It wasn't a 26.2 mile marathon but back then, all long distance races seemed to have been referred to as marathons).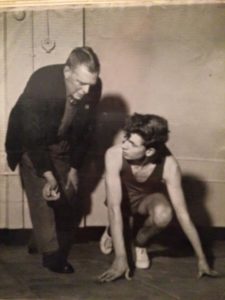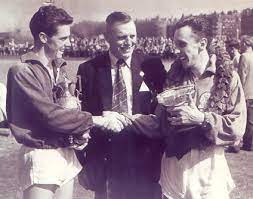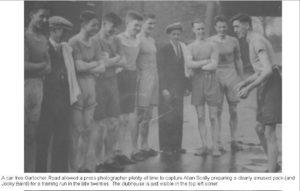 From a very personal perspective, I would heartily recommend this race, run in memory of my grandfather who died in 1966 when I was 3.  My grampa was a world class runner – a world champion no less at 10 miles – and a reknowned coach and race official.  He was also a professional runner, supplementing his income as a railway worker with his professional winnings.  He ran during the depression era in the 1920s and 1930s and the extra income would have been much appreciated by his family.  As a result of accepting cash prizes, he was never allowed to join a running club as these were exclusively the preserve of amateur athletes.
The first race in memory of him was held in 1969 and I have very vivid memories of buttering rolls for the runners' post-race tea!  In the photo below, I'm on my granny's knee while my sister is on my grampa's knee.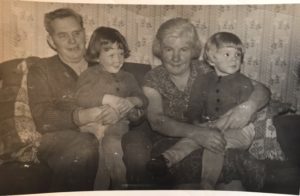 If anyone would like to join a team, or ask more about the race, please get in touch with me (Sue Walker) on [email protected] or Jonathan on [email protected]
.