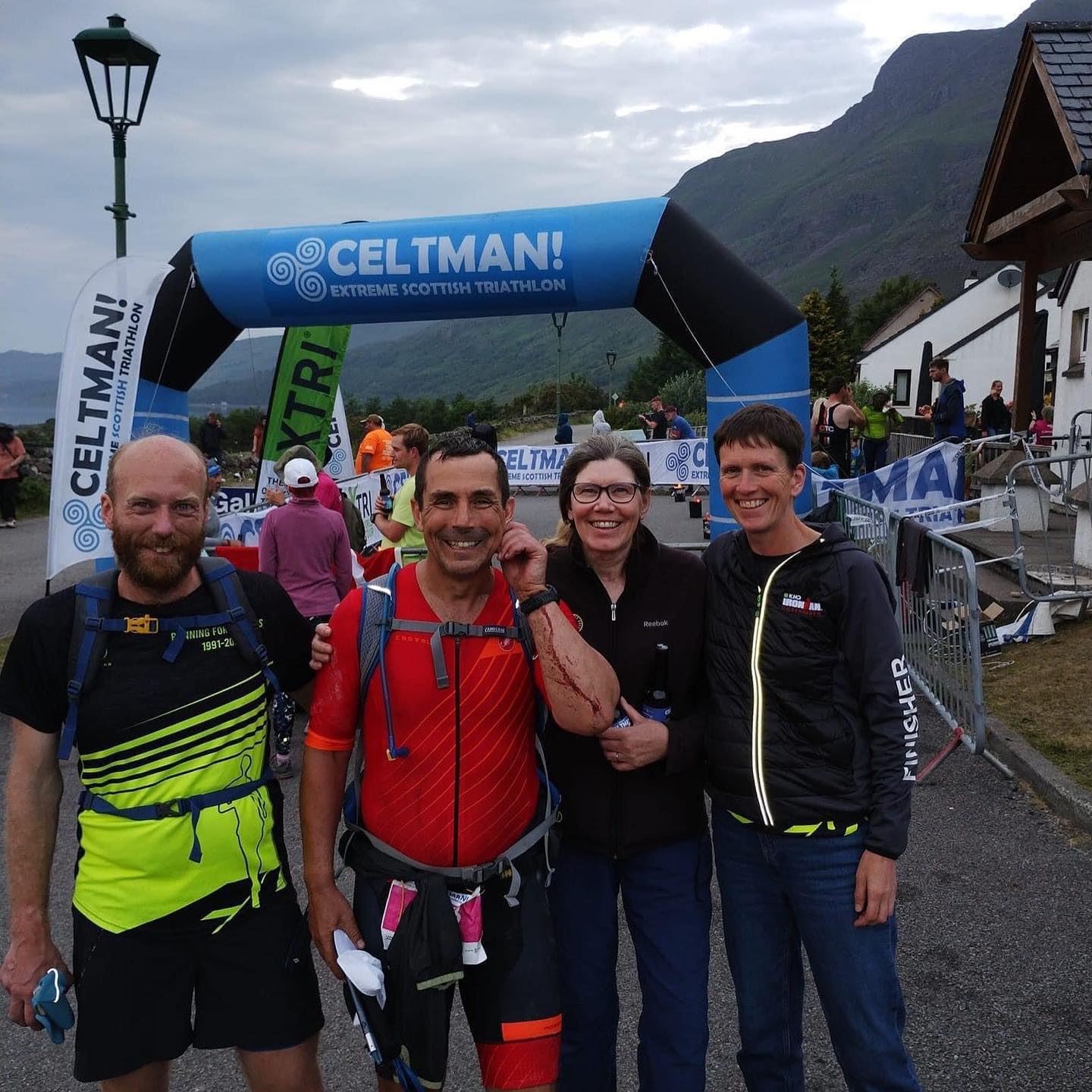 Race Report by Andy Sim of last weekends Celtman Extreme Scottish Triathlon.
Something a bit different
After three or four years of trying get through the ballot I finally got a starting place for the Celtman Extreme Scottish Triathlon. As there's a 42km mountain run which follows the 200km bike and 3.4km swim I think it (almost) qualifies for a Harriers race report.
It takes place in and around Torridon, which according to Wikipedia is a small village in the North West Highlands around 109 miles north of Fort William – so pretty remote! That said, I still managed to get up a couple of times over the last few months of training to get a recce of the bike and run routes. I wimped out on the open water swim given the Baltic water temperature through the winter. All in the preparation they say for these long races, so I put up with the snow, rain and high winds to get the miles in and be ready to rock on race day.
Race day arrived and it was a scorcher. All that preparation through the winter went straight 'oot the windae' and a late change to the first half of the run route which I'd worked hard to learn added a bit of spice to the adventure. Those that know me will know I swim like a fish though …. unfortunately, that fish is of the flounder variety. No matter, managed to get out the water without drowning and only three or four jelly fish stings on my face and was off on the bike in good form. Had a pretty good ride but my nutrition plan fell to bits from that point, with dehydration and an inability to take on my solid foods of snickers, potato cake and jelly babies. Ultimately that meant getting by on SIS gels, which got me through the bike and first half of the run.
The run route is amazing, taking you through the Coulin pass and then along another mountain track past Ben Eighe. Because of the remoteness you need to have a support runner, which Jonathan Miller did a great job of on the day; even doing what he could to convince the 'medical' guy at the first checkpoint that even though I looked like death I would be absolutely fine to complete the last half of the mountain marathon. We didn't hang around long enough to let him change his mind and headed off up the hill at what could be most kindly described as a sedate pace.  Half way up I was a bit sick (well really sick tbh) and got through the rest of the run on a little bit of banana and around 400ml of water. (I think they feed prisoners better than that!)
We made it over the line after an accumulated time of 16:35, which was a bit of a victory in itself but still feels like unfinished business given my poor execution on the day.
I'm normally really self-reliant but I definitely wouldn't have been able to do this without the amazing crew of Jonathan, Gail Murdoch and the long-suffering Helena Sim. When I did the WHW a few years ago I said the same thing, and now while it's still fresh in my memory I really need to thank them all for giving up their weekend and roughing it around after me all day Saturday – absolute legends!!!