Balerno Rigg race Report by Alan Murray
The Rigg race is organised by Harmeny AC and has been on the go in one form or another for over 50 years. Apparently the race started life as a walking event held on the Gala Day for workers at Balerno Mill. The Race is traditionally held on the Monday evening of Balerno Children's Gala week , falling around the week of the Edinburgh Marathon over the last few years and has a distance of 6 miles.
Three Harriers turned up at Balerno High School on a sticky warm Monday night, to run the 6 mile undulating loop through Balerno. The course starts in Malleny Park next to Currie RFCs rugby ground.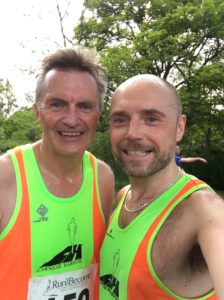 Stuart Paterson, Alan Murray and Kieran Morgan (an ex harmeny AC runner) joined the other 186 runners at the start line. The start hooter was sounded by the Balerno Gala Queen (a nice touch) at 7:30 on the dot. The start of the race is flat as the runners enter the woods, however, the route soon begins to climb as runners exit the woods and head up through the village of Balerno. The route climbs for the first 3 miles before levelling off, this makes the first 3 miles very hard and energy sapping, particularly on a warm sticky night. With the first 3 hilly miles safely negotiated the runners soon enter farm roads along the East Rigg Road (hence the name of the race) which offers great views of the Pentland Hills, where the surface becomes potholed and rutted, ensuring runners need to be careful with their step. What goes up must come down, and the last 2 miles are downhill, a welcome sight after miles of steady climbing. Speed can really be picked up this point as the race heads back down through Cockburnhill towards the finish. For a low key remote race , the crowds were plentiful throughout the route, but there was a real presence and encouraging support within the crowds gathered near the bottom of the downhill section, giving a final boost to runners to push on towards the finish. A few final turns back through the woods with the race finishing back in the Rugby Club grounds at Malleny Park.
This is a low key and very friendly race with a mix of fast club runners and fun runners mixing together. The race is not easy due to the 3 mile climb at the start and the uneven surface underfoot, but all in all it is a great event with an awesome buffet to tuck into at the end.
First Harrier home was new member Stuart Paterson in an excellent time of 32:31, giving him 2nd place. Next was Alan Murray in 40th position with a time of 42:08. Keiran Morgan was not far behind, finishing 75th in a very credible time of 46:12.
Thanks to Harmeny AC for putting on an excellent event, despite the very hilly start!
2 97 32:31 Stuart Paterson M Carnegie Harriers
40 130 42:08 Alan Murray M40 Carnegie Harriers
75 159 46:12 Kieran Morgan M50 Carnegie Harriers