2019 Islay Marathon Race Report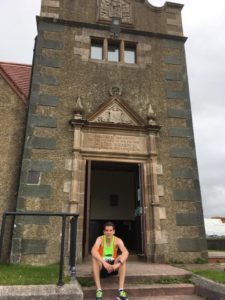 The Islay Marathon is a race that had been on my mind for a few years now. I was born and brought up on Islay and lived there til I was ten, but I hadn't been back in over thirty years and my wife and kids had never been to the island. I always find running is a good excuse to visit places so a race on Islay had been on my radar for a while and this year I was able to fit it in.
We got the ferry over from Kennacraig to Port Ellen on the Friday and with the race being on the Sunday this gave us a day or so to explore the island and do some sightseeing. I might be biased but Islay is a beautiful place with lots of amazing beaches, wildlife, coastal villages, and of course what it's most famous for, distilleries!
The marathon is a point to point race, starting at the village of Portnahaven and finishing at Port Ellen. The race starts at 7:30am, this is to avoid there being too much traffic on the roads, although the roads on Islay never get particularly busy! So that means an early start on the morning of the race. Mini buses leave from Port Ellen at 6am and pick runners up at various locations on the island and transport them to the start at Portnahaven.
Safely deposited at Portnahaven village hall we didn't have a lot of waiting around to do and after a race briefing and group photo we lined up outside the hall ready to start. Now, last year the winning time had been 3hrs 34mins and when I had seen that I thought I might be in with a shout of a win as I knew I was capable of going quicker than that. So I positioned myself at the front with a race plan of trying to keep my pace steady but staying near the front if I could to see how things panned out. Unfortunately for me, a few other folk had obviously seen that result and had the same idea as me! And it quickly became apparent that a race win wasn't on the cards as the eventual winner raced past within the first few hundred yards doing sub 6 minute miles. (He managed to maintain that pace for the full race, finishing in an amazing 2hrs 31 mins, averaging 5m46s miles!)
With any thoughts of glory gone early on I decided just to run my own race and enjoy it as much as I could. I settled in to a small group of runners and we had a bit of a chat until we gradually started to spread out over the first few miles. I found myself in 7th place and that was where I stayed until the finish.
From the start line you do a short loop of Portnahaven and Port Wemyss before you circle back on to the main road which travels North up the West side of Loch Indaal. I think undulating would be the best way to describe the first 10 miles as you follow the road hugging the coastline and passing through pretty wee seaside villages like Port Charlotte and past distilleries like Bruichladdich. As you reach the head of the Loch you turn East and before long reach the halfway point. The next major point you are looking out for is Bridgend where you leave the main road and you take the high road (there's a song there somewhere…), which takes you all the way to the finish at Port Ellen. Now, for me this section was the most challenging section of the route. It's ten miles of straight road across a moor with not much to see and other runners only visible in the distance. Luckily for me my support crew had made their first appearance at Bridgend and they stopped at various points along this section to offer me lots of high fives, jumping, screaming and general encouragement.
My pace dropped off around the 20 mile mark as things started to get a bit hilly again and I started to tire, but I managed to pick it up again in the last couple of miles as Port Ellen and the promise of finishing started to come into view.
There was a decent crowd at the finish line with loud music playing and a very enthusiastic compere. My own support crew were also waiting for me and I tried to keep up with my son Sam as he raced me to the finish line outside the Ramsay Hall. The finish tape was pulled out for every runner which I thought was a nice touch. I finished in 7th place in a time of 3hrs 26mins, happy to get in under 3 and a half hours which had been my target.
After refuelling on the excellent post race spread, we sat in the sunshine outside the hall, overlooking Kilnaughton Bay, and watched the other runners coming in before the awards ceremony. You get an excellent goodie bag consisting of a handmade glass plaque, a nice t-shirt and a miniature bottle of Ardbeg (where my grandpa used to work!).
This is a low key event but I find they are often the best and it was professionally organised with all the important aspects of a bigger scale event covered. It's a challenging course with some undulating sections and it can be a bit of a lonely one at times. I think the weather could also play a big factor, we got lucky this year but that last ten miles across the moor is pretty exposed and could be tough on a windy day. All in all though I really enjoyed it and I'll be back. I would definitely recommend it but if you're planning your trip give yourself a bit of time to explore the island as well, particularly after the race if you're a whisky fan!