Brig Bash 5 Race Report by Graeme Wilson
The BB5 is my favourite race, I've run it 11 times since 2008, only missed 2014. It's been popular with CH in the past, this year only myself , John Hynd and Sarah Marshall entered, and only John and I made the start line with Sarah delayed at work.. Boo..
The organisers (PRR) are unusual in insisting ( they really mean it) on photo ID to get your race number at registration.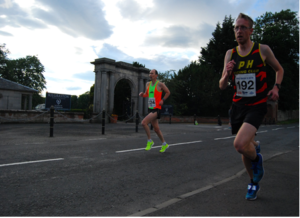 On the subject of the start line, it seems to move a few metres further back each year and since I first ran this race and it has moved about 50m away from where I first remember it to be. Unfortunately the finish line has stayed in the same place so the race is getting a little longer each time.. Boo again.
After the Race director had welcomed us and thanked the sponsors inaudibly using a loudhailer that either did not work or had no batteries we were off. The course is as flat and as fast as you can hope for and the warm weather in early July usually makes this a quick one. Tonight was no exception as we ran along the quiet country roads in leafy Perthshire .
I had John in my sights all the way hoping I could get him before the end. Mile three is a little bit lumpy then it's flat to the finish with a nasty little rise just as you're on full gas with about 600m to go.
I passed John with about 50m to go, he passed me back and we finished in 32:51 and 32:52.
After the race the PRR organise a fine buffet in the Community hall, which was full of sweaty runners and was like a sauna, to I took my tea and cakes out outside for some great post race chat with running pals.
The prize giving was very prompt and the race results were on the web when I got home about 9.30, as were the first set of race photos (thanks to GBX photography for the photos used)