Bruny Island ultra race report
Bruny island lies south east of mainland Tasmania. It's a very popular destination for both tourists and locals It has been visited by various explorers such as Furneaux 1773 and Cook 1777 but the island gets its name from Bruni D'Entrecasteaux, a French naval officer who named the island in 1792.
This ultra and relay takes place at the end of November. It starts at Nebraska Point, Nebraska Beach, Dennes Point, North Bruny and finishes at the Lighthouse in South Bruny National Park. The route follows the main road, most of which is sealed (tarmac).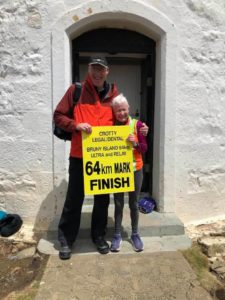 Start time is from 4am and you pick your start time so that you can finish between 11am and 2.30pm. Donald and I arrived at Dennes Point at 3.55. There was no one around and we didn't have a clue where to go. Then a lady in a pink tutu emerged from the toilets and we knew this must be the right place. A minute later a van arrived and out came 4 people, then a table, a torchlight, barrier tape, some other bits and pieces and a timing mat. It's all very informal. When a runner is ready, they get checked in at the table, run over the timing mat and are told "See you at the Lighthouse".
I set off, on my own, up the unsealed road in the pitch dark at 4.20. Sunrise wasn't till 5.29 and it was lovely to see it rise over Storm Bay. This ultra could be described as do it yourself. There are very few marshals. Whether a solo runner or part of a relay team, a car and a driver are mandatory kit. You bring everything you need for the run with you. So it's a bit like the WHW race. However, there the similarities end. There are no cutoffs, no drop bags, no water stations, no sweets and no devils waiting for you at the top of a climb! There are markers every 2k. Relay runners can swap in and out at 2k or any other multiple they choose.
As the Ks go up, the road gets busier because the relay runners can start later. By the time people reach the Lighthouse the roads are carnage. There are cars everywhere. The road to the Lighthouse is narrow and it can be tricky turning the car around in a short space. You get a T-shirt, but only if you pay for it separately. I was given a buff plus a spiebelt but that's it. You get your medal when you finish, have your photo taken at the lighthouse door with the finish placard and you head back to your car. There's an after party at the hotel in Alonnah, but it rained and we decided not to stay.
Would I recommend this race? Definitely. When the relay runners get going it's a super atmosphere. Up until then you have to be content with the island's magnificent views. It's just a pity it's so far away.
Jane