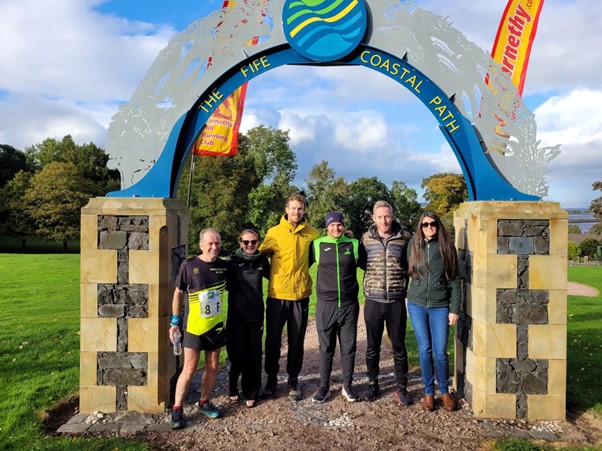 Scottish Long Coastal Relays – Carnegie Harriers
Saturday 1st October 2022
Starting at midnight was never going to be easy, especially when the rain was bouncing off the ground. I was warm in my bed, thinking of poor Sarah who was brave enough to start our team off in the middle of the night. 12 teams were entered for this year's race, which is organised by Carnethy Hill Running Club.
Leg 1 (16miles) starts in Kincardine and travels to North Queensferry. I consider running in the dark as an art form, and one that Sarah is particularly skilled in. She had a fantastic run, never dropping pace and getting Kevin at the start of Leg 2 nearly 30 mins before the mass start and putting the team in 6th place. I should note here that it brings a real feeling of satisfaction beating the mass start times. It is also lovely getting to see your teammate before they set off on their adventure.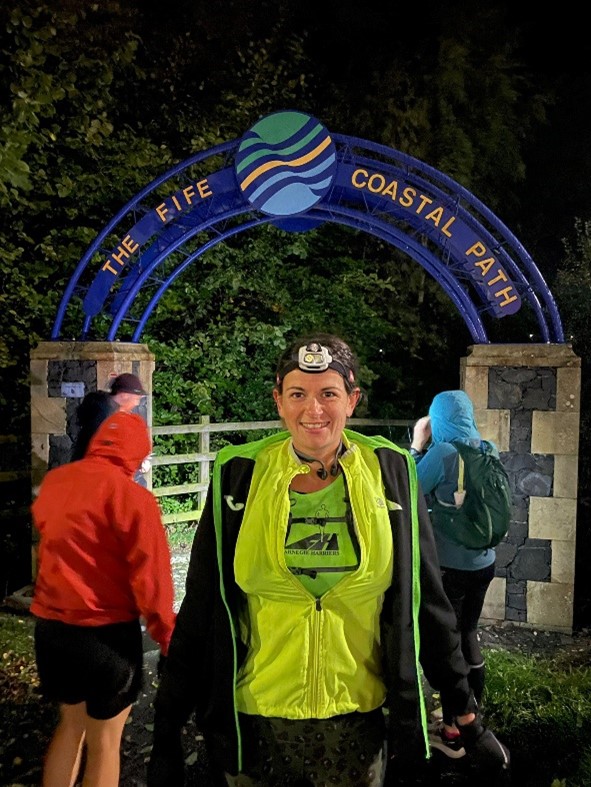 Leg 2 (20miles) was handled very well by Kevin, starting in North Queensferry and finishing up in Dysart. Unfortunately for Kevin, he had a 'dodgy' stomach through the night which meant he had to make a few pit stops along the way. Thank heavens for wet wipes!! Despite this, he ran a fantastic race, climbing the many stairs into Dysart (unbeknown to Kevin before the race) and meeting Nick at the changeover well before the mass start time again (around 5.30am). This was the first time most of the team were together (Jamie, Sarah, Nick, Kevin and I) and it was a good chance to check in with everyone and figure out final logistics. It was clear at this early stage that we were getting pretty competitive already. Nick raced off into the night for Leg 3 (20miles) and we jumped into the car ready to track him on his journey to St Monan's.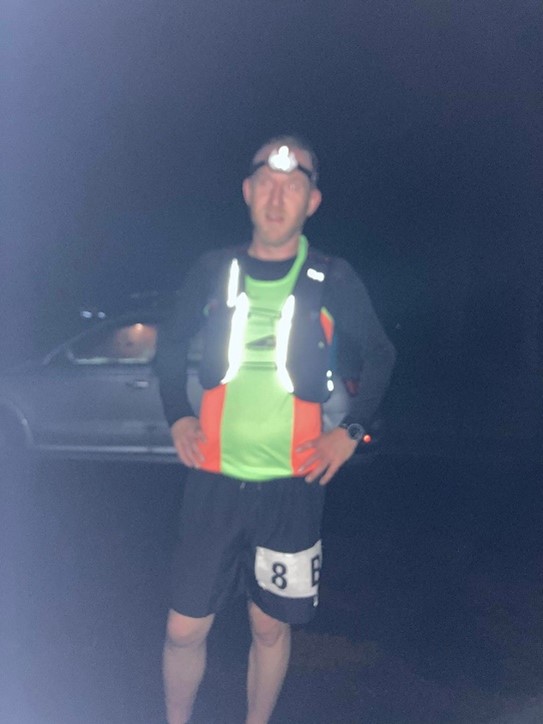 Jamie and I just made it to Leven to see Nick as he was absolutely flying (see blurry photo as evidence). The aim was to catch him again in Lower Largo but after a bathroom stop in Leven McDonald's at 6am (interesting place to be at that time of the morning) we actually missed him. We then managed to catch him at Shell Bay and he was running so well. I thought he looked a bit uncomfortable but he was still speeding past so thought nothing of it. It wasn't until we met Nick at the end of his leg that we found out he'd had a really bad fall and had been in pain (see photo – ouch!!). Fair play to him for keeping going – I definitely think I would have been done. After an amazing run, Nick passed the baton onto Jamie (again well before the mass start) and Jamie headed off towards St Andrews.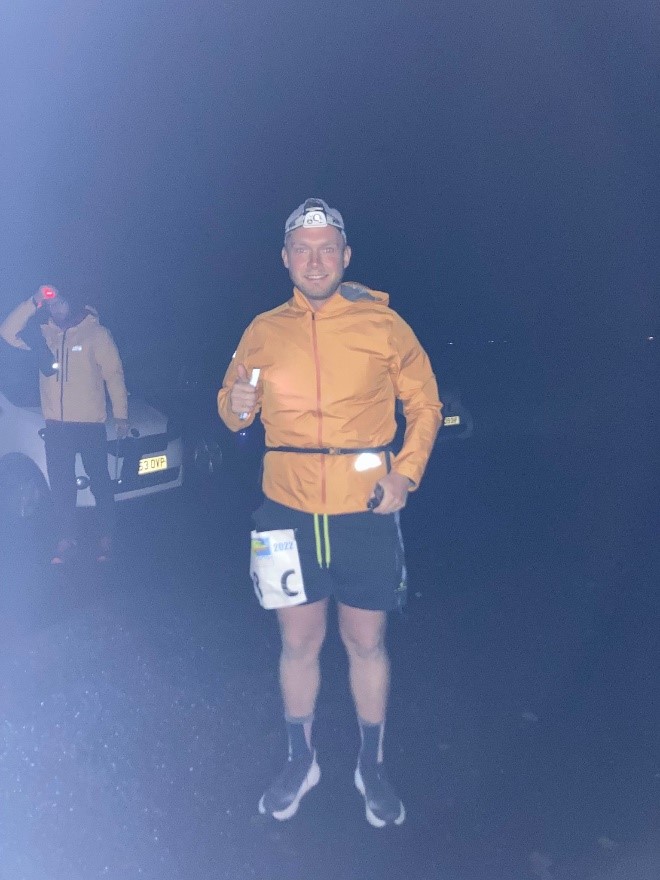 Leg 4 (21 miles) is arguably the most difficult section of the coastal path. It is definitely for the best that this one is run in daylight. Runners have to contend with sand, bulls, a golf championship and a very 'unrunable' rocky section. Jamie ran this leg last year (whilst dealing with an injury) so he was really determined to run it faster this time around. He managed to shave off a mere 33 minutes so quite the result I would say! Nick and I followed Jamie along his journey (we all used the Garmin tracker which is brilliant by the way), spotting him in Anstruther, Crail, Kingsbarns and then onto St Andrews. We had to help Jamie with a quick costume change in Anstruther as he had already started to overheat as we were lucky to now be running in glorious sunshine (feeling pretty bad for Kevin and Sarah at this point who had trudged through the rain all night!). Not bad enough however not to send a lovely sunny picture of Nick and I enjoying a pot noodle (see photo!)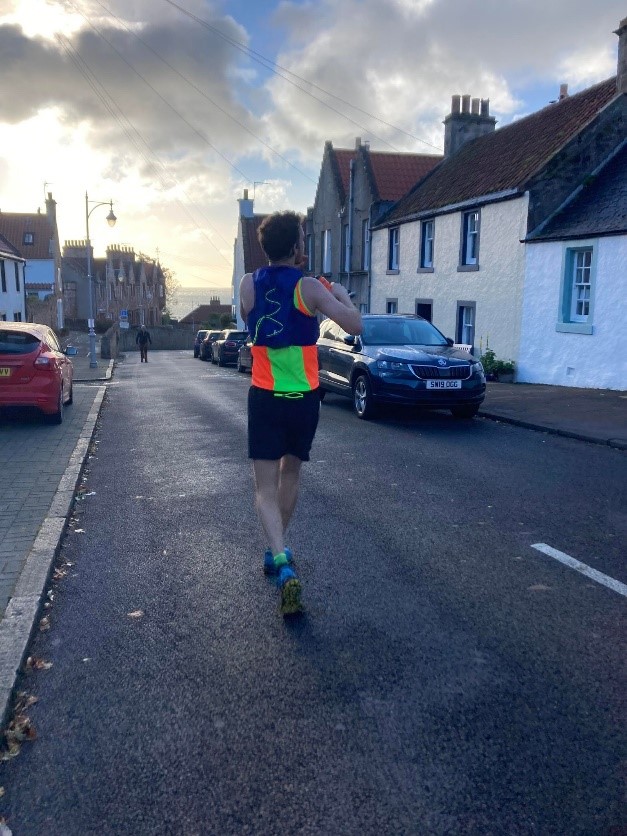 Jamie arrived in St Andrews with over half an hour to spare before the mass start. Having been up since 4am (it was now 11.30am) I wasn't sure how I was feeling about starting Leg 5. Disorientated is probably the best description! Anyway, I was excited as I started off and, as usual, probably went out too fast. I was so hopeful that I would make it to Neil in Wormit by 2pm for his mass start. This gave me 2.5hours for the 20+ miles but I was optimistic. Oh, how wrong I was… All was going really well, such a beautiful section across the boardwalks into Tentsmuir forest. Kevin, Nick and Jamie were waiting for me halfway through the forest so it was lovely to see some friendly faces. I too had needed to remove some layers so was grateful for a quick stop to catch my breath. After I left the group, things took a bit of a turn and I started to feel pretty nauseous. I kept trying to take on fuel and water but it started to come back up!! Anyway, with 13kms to go I had to make multiple stops on my mission to get to Wormit and this meant there was no way I was getting there by 2pm. I finally rolled in after 2hrs 45mins before crumbling into a heap in the car. Onwards and upwards!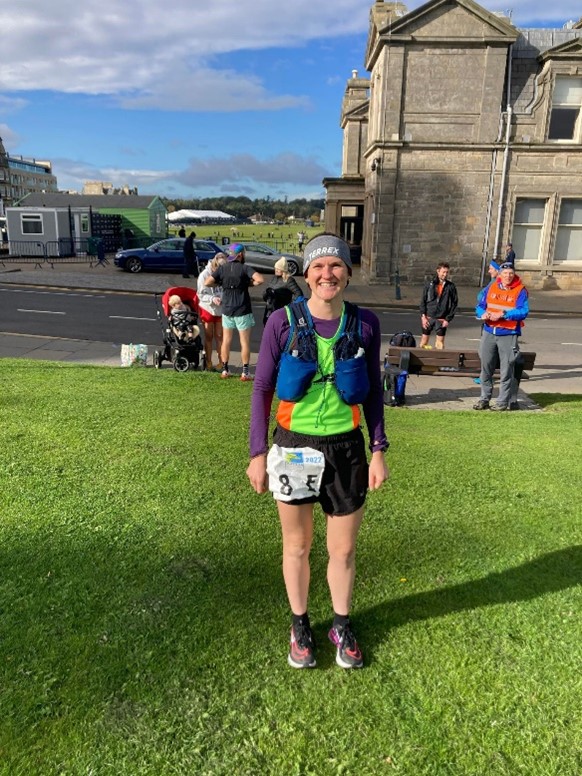 Last but certainly not least was Neil, who was tackling the hilly Leg 6 (16miles) starting with the mass start at 2pm with nine members of the other teams. This starts in Wormit, climbs Norman's Law and finishes in Newburgh. Not for the faint hearted.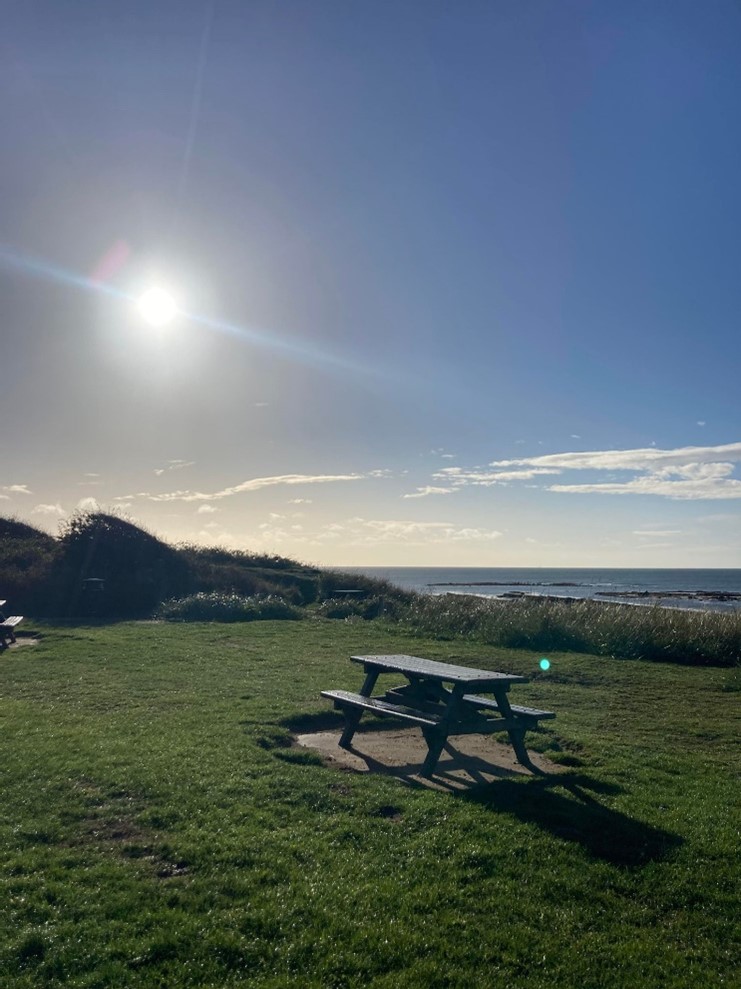 We managed to catch Neil in Hazelton Wells? (Who knew!) and then again just before he approached Newburgh and after the climb. We had received a message from Neil saying 'Cramp' and then 'Get' but between us, failed to interpret that he meant 'Gel'. Idiots! Sadly, for Neil, when he saw us, all we had was a half-eaten Pot Noodle which he guzzled down like a trooper and then sprinted off towards the finish in Newburgh where the whole team were waiting to cheer him across that finish line. He had a fantastic run and helped us finish off in 16 hours, 34 minutes and 44 seconds in 5th place, taking nearly 2 hours off our time last year.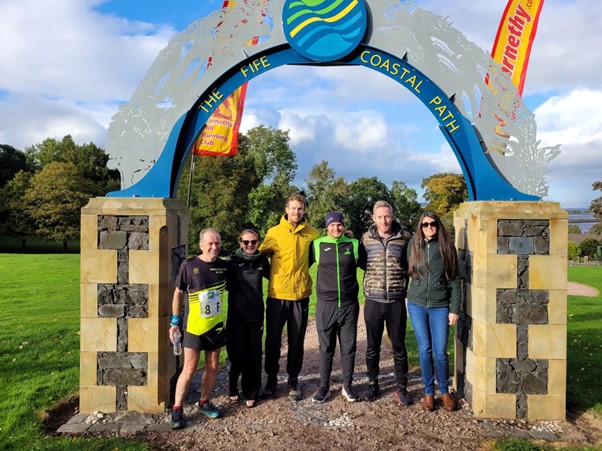 What a day! We had a blast and, I for one, am certainly very keen to do this again next year. It's a great way to be a part of a team and also see the beautiful Fife coast in all its glory. Let's get at least two Carnegie teams next year