The 4th race of the 2019-20 Road Grand Prix took place on the evening of Wednesday 5th June.  The CAAC 5 mile race, hosted by Corstorphine Amateur Athletics Club, is a challenging, undulating course on the back roads near Edinburgh Airport.
It had been a day of sporadic, heavy showers, and was tipping it down when leaving Dunfermline pre-race.  However, the running Gods were smiling on us, and it stayed dry for the entire time we were outside of our sheltered, warm cars.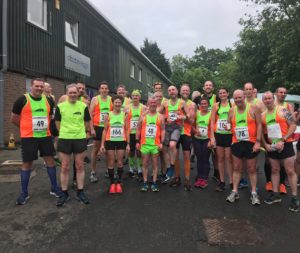 The race was away at 7:30pm sharp, with a loud bang that startled some into action.  It's fast start, with a gradual downhill for the 1st mile and a half.  Just as you get used to this, you turn right onto Cammo Road, and begin climbing.  Gradual to begin with, but steep in places, and lasting about a mile.  This can sap the energy, but you have the chance to recover on a steep descent afterwards, ready for a few minor ups and downs as you pass some houses, and a few cars that have kindly stopped to let you through safely.  The sting in the tail kicks in around the 3 ½ mile point, where a steep climb takes you past the 4 mile marker, and if you have any energy left after this, it is quite a speedy last kilometre, down the hill and onto what feels like a never-ending final straight.
1st male Harrier home was Alan McGowan with a healthy race PB in 31:04 (Chip 30:59).  Ben Hopkin was next in 32:40 (32:32), with John Hynd making up our Top 3 in 33:37 (33:32).
1st female Harrier was Isobel Burnett in 38:16 (38:05), with Sarah Wellcoat finishing in 43:02 (42:48) and Kerry Hunter completing our Top 3 placings with 44:13 (43:59).
A full list of results can be found here.
In a field of 223, there were 21 Carnegie Harriers, making us the 2nd most represented club in the race.  A great turnout on what started as a wet Wednesday evening but ended with some great runs and lots of course PBs.