Crieff 10k Race Report by Michael Bissett
The Crieff 10k is one of the more challenging 10k's out there but also one of the most scenic. It is mostly ran on trail with small helpings of grass and road.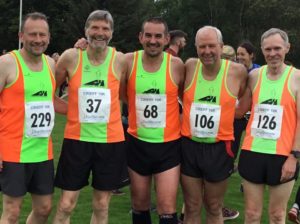 The mass start is on grass before heading onto the main road then onto the trails. The most challenging section of the race is between mile 1 and 2 with a long climb to the top of the hill. It was particularly energy sapping on this warm day. There is some respite at the top where there is a short downhill before a long section on trails. The trails are gently undulating but quite technical in places. The decent ends at around 5k where you turn onto farm like tracks. This is a surprisingly tough section as your legs are tired from the earlier climb. You move onto a beautiful section by the river which takes you back into the town and the grass to the finish.
This race was part of the Harriers trail championships and 14 Harriers took part. First Harriet home was Alan McGowan in 41.47 closely followed by Ben Hopkin and Jonathan Millar. First lady home was Aileen Morton.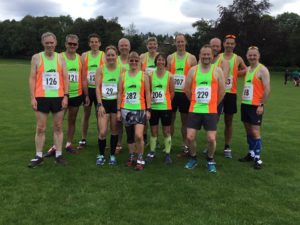 Well done to everyone who took part.
Crieff 10K (2019-20 Off-Road GP Event No 3)
14th Alan McGowan 41:47
17th Ben Hopkin 42:11
19th Jonathan Millar 42:27
30th Lee Holland 44:07
37th John Hynd 44:57
38th Dave Morton 45:03
55th Michael Bisset 47:24
64th Barry Davie 48:20
101st Niall Patterson 52:27
114th Aileen Morton 53:27
140th Zuleika Brett 55:47
157th Jennifer Smith 58:01
167th Stephen Greer 59:24
190th Clive Cable 62:17