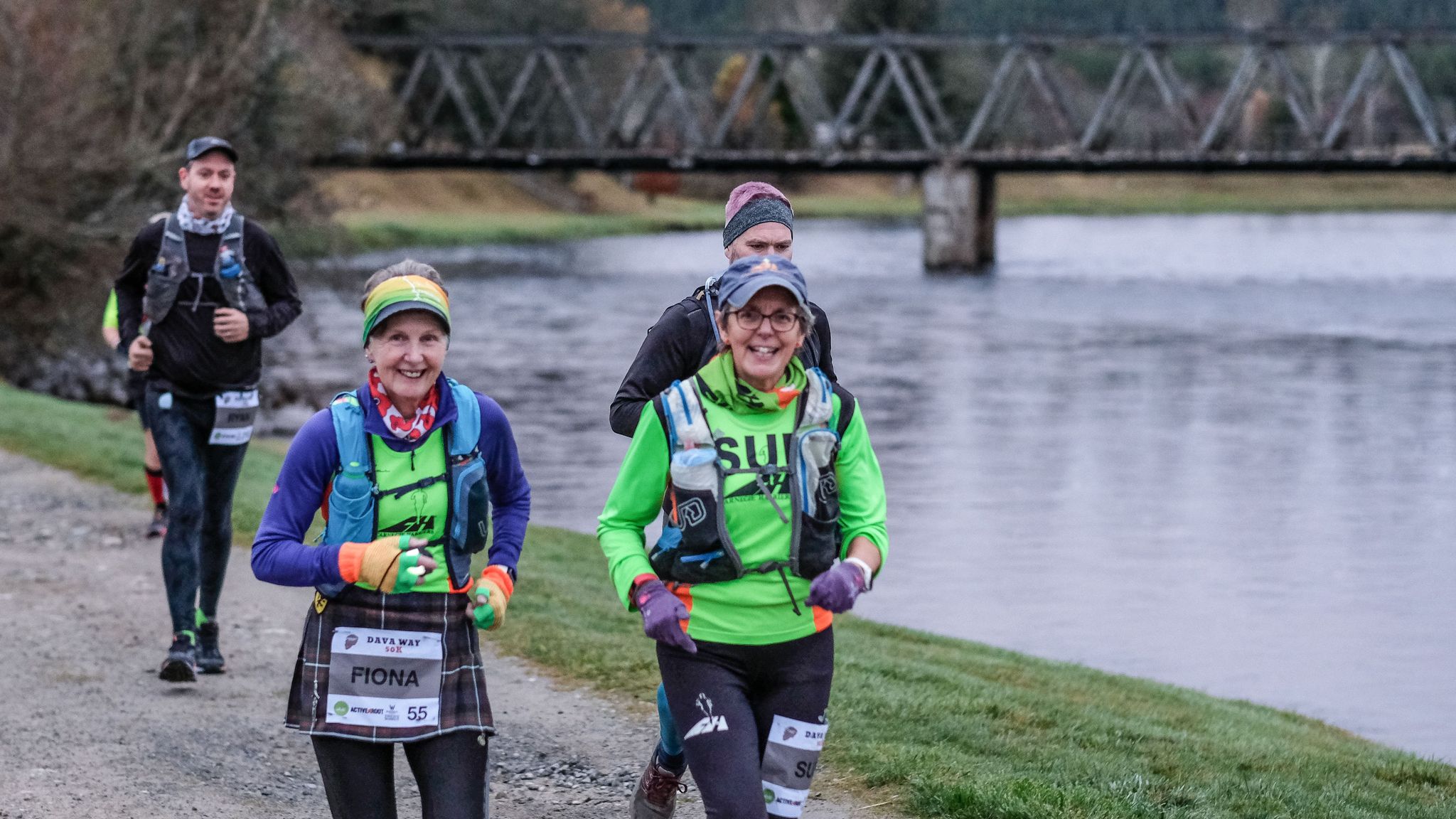 Dava Way 50k Race Report
After running the West Highland Way this year, I've enjoyed my running but without a goal in mind, it's been a bit aimless. I decided to sign up for the 50k Shale trail race in December.  Fiona Rennie has also entered and we've started to recce the route.  Then Fiona spotted that the Dava Way race (also 50k ish) had reopened for entries and suggested that we enter. This was a silly idea for two reasons – it was only a week after Fiona was running Glen Ogle 33, and I hadn't done enough/any long runs – so naturally we both signed up!
The race goes from Grantown-on-Spey to Forres. That distance is 24 miles (I ran in the inaugural race along with Colin Reynolds back in 2005) and the organisers add a long loop through Anagach woods and along the river Spey around Grantown before joining the Dava Way and they also take you on a wiggly 2 mile circuit around Forres at the end. A bus is laid on from Forres back to the start which is good as there is no public transport at all between the two towns.
The route is lovely with not much climb involved. Essentially it drops from 320m above sea level in Grantown down to sea level in Forres, and the old railway line is pleasantly soft underfoot. We had glorious weather but sections of the route going across the moors could be exposed in more typical November weather. The race has a sting in the tail though as you're taken up Cluny hill in Forres to admire the views from Nelson's tower before zig zagging down to the finish in Grant Park.
Fiona and I started together and finished close together too but were apart for most of the race.  Fiona ran a fine steady pace on weary legs only 6 days after Glen Ogle. My lack of long runs hit me at about 23 miles and I struggled for a bit. Despite this, I finished as first V60 and Fiona was second V60, and we were well inside the race time limit of 8 hours.
298 runners entered, 213 started and 212 finished. Many people were running their first ultra and it was a good choice for that, with easy navigation, a well-marked and supported route and with straightforward logistics.  (Unless you have a support driver with you, don't stay in Grantown the night before as the shortest return journey from Forres by public transport is 2½ hours and goes via Inverness.)  There are 3 aid stations at roughly 10, 21 and 28 miles, and you had the option to have a drop bag at the 21 mile point.  A piper and drummer also appeared on the route.  All finishers got a wooden medal, a beer, buff and active root sachet. It looked as though there was a strong Carnegie Harriers presence at the race and the race hoodies were orange and the organisers were selling pea and carrot big bobble hats to tone in.
All in all, the Dava Way 50k (ish) comes highly recommended.
Thanks to Alex Mitchell and Fiona Rennie for the photos.
Sue Walker 16th November 2022