Edinburgh Marathon Race Report by Stuart King
Hope you are all sitting comfortably on your Chaise Long or Chesterfield, large wine/brandy in one hand and Jeeves holding your phone or Ipad for you?
As some of you will be aware, this was my first ever Full marathon and having been a member of Carnegie for the last year, there certainly was no shortage of good advice and top tips from mostly seasoned long distance runners and I was very gratefull for that indeed.
I was clearly a fish out of water having never ran anything longer than 13 miles, my training needed ramped up a bit and in the right areas. For a period of 15 weeks I attended almost every single training session and along with 2 mid-week lunchtime runs I made sure I began a plan of stepping up my weekend distance running too.
One of my markers was beating my PB (of 8 years previous) in the Alloa Half, giving me that mich needed mental boost.
For around 2 weeks before the marathon, I was closely monitoring the weather forecast for the big day. Worried in case it was going to be too hot or too cold? What to wear was the big question in my mind? I had read to dress as if it's 15 degrees warmer than it is. It was going to be a wet and windy day, with a particularly wet start.
Worried in case of chaffing, I ruled out the green mankini and decided to stick with my new shorts (tested of course on the last few big runs), a short sleeve top and my well broken in New Balance trainers.
A few of us decided to meet at Halbeath just before 8am as we had been kindly offered a lift straight through by Leanne Spence. When she had said the day before that we were to have the VIP treatment, I did not fully appreciate the lengths she had gone to. Each of us phone bag, banana, mars bar, water and the most important thing of all, the Plastic Poncho.
In the car, nerves were kicking in a bit for me but there was plenty banter to distract our minds for moments.
Dropped off near the Meadows we ambled across towards the start in our very sexy Ponchos. With toilet breaks and bag drops, we did not have too long to hang around before we (Andrew, Gail, Steven, Graham and myself) got into our respective positions, still with Ponchos on whilst the skies opened and wind picked up. I certainly was not going to get too hot, by the looks of it, or so I thought.
Despite the weather, the ambience and excitement was certainly noticeable and there was a real buzz in the air.
Watches set and phone apps at the ready, the gun went off and Steven Farmer, Graham Wilde and myself slowly shuffled across the start line, jostling for space in the crowds. That fighting for space really continued for about the next 2 miles until the roads widened up a bit and allowed us that much need space around you.
I had set my sights on maintaining a pace of just under 8 minute/miles for as long as I could. At a good 40 seconds slower per mile than my Alloa Half pace, I thought this was a sensible rate to kick things off at. Very quickly, I lost sight of Graham and Steven, firmly focused on markers in front of me (not those kind of markers), I knew they were probably just a few paces behind me. Heading along the coast, there was a quiteness and that I soon realised was the wind behind us, gently pushing us.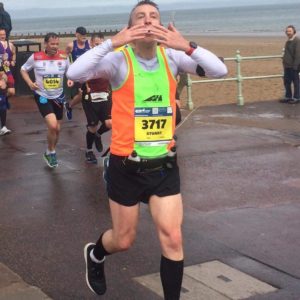 My first sight of any other Harriers was when we reached Portobello, where I had already been forewarned that both Alan McGowan and Alison Sutherland would be waiting to cheer us on. I found myself looking ahead to see what side they might be on and then I heard the shouts from Alison and Alan, cheering me on and with their camera in hand, I slipped over to their side and for some strange reason, decided to blow a kiss to them out of delight (now my FB Profile). That cheered me up and kept me going.
For the next few miles I was comfortable and in the zone. "Wonder where Steven and Graham are", crossed my mind a few times, but dare not look back. "They might still be just behind me, and ready to pounce past me", I thought.
At mile 14 I reached a Steel Band playing with people cheering and dancing at the side of the road. For some bizarre reason I shouted out, in time, the words to the chorus, much to the surprise (and delight, I think) to the girls. It made me smile at least.
My very average pace became only too apparent when I spotted a Kenyan heading towards us around mile 14 on the other side of the road and clearly not too far from the finish. My hazy compute calculated he was probably running nearly twice my speed. Wow.
Ignore him and just focus I thought. No aches and pains at this stage and breathing steadily. Runkeeper still shouting out sub-8 minute averages. Felt good.
I was not long before I got a tap on the shoulder, around the 16 mile stage and it was Graham. He asked me if I was ok, I said "yes", even though I wasn't really. Graham said he was feeling good. At this point I thought, no not again. (During the Alloa Half, he did similar around 10 mile stage and then left me standing). Within minutes he was easing ahead and I left him to it (kids these days!), knowing that we still had 10 miles to go, I had no intention of stepping my pace up (something that Graeme Wilson told me to watch out for). I watched him slowly disappear up ahead. "Write me", I shouted, like something out of a classic movie.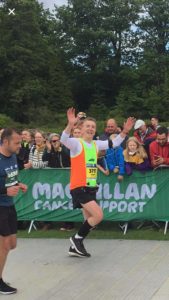 From mile 19, I started getting twinges in my ankle and my upper thigh and thought "oh no", please don't start.From that point onwards things got worse and every mile to the finish was one of pain and cramping. No amount of Gels seemed to ease it, and I disappointingly found myself having to stop at the water stations, and take on more water and stretch. Every take off from a stop was hell. The Hip area was torture with every downstroke and I found myself slowing way down.
Conscious of my antipated finish time and my family up ahead, I ploughed on regardless at a pace much slower than I started, but at least moving faster than a walk. Too tired and hungry for air, I even had to refuse the Jelly Babies that children were handing out.
Managed a few 'low fives' to kids to try and keep my spirits up as I was flagging much more than expected.
Can't recall what mile this was exactly (maybe 24), but Alison Sutherland and Alan McGowan were there again, with Alison running alongside me and pulling me along. It was a funny moment and got me focusing again.
Mile 25 saw me step up the pace as I knew the end was near and as I turned the corner onto the steel sheets and the finish line, I had tingles all up my back with all the cheers. Frantically searching for my family in the crowds, I managed to spot my 15 year old son, who stands 2″ taller than me and then muster some kind of smile as I turned for the single family photo. Strangely got quite emotional at this point. Only then did spot Steve hunkered down with waterproofs, camera facing towards me. I am not sure how I looked on that one.
What a challenge this was for me. The toughest thing I had to do yet, ever. My time was a fairly respectable one, all things considered. Will I be back anytime soon for a Full Marathon? No. Will I do one again in the future? Very likely as I expect I wil want to try and improve that time.
I addition to the personal achievement I was delighted with the amount raised too for Macmillan (currently standing at £680, with an initial cautious estimate of £250).
Thank you Carnegie Harriers for motivation and support!