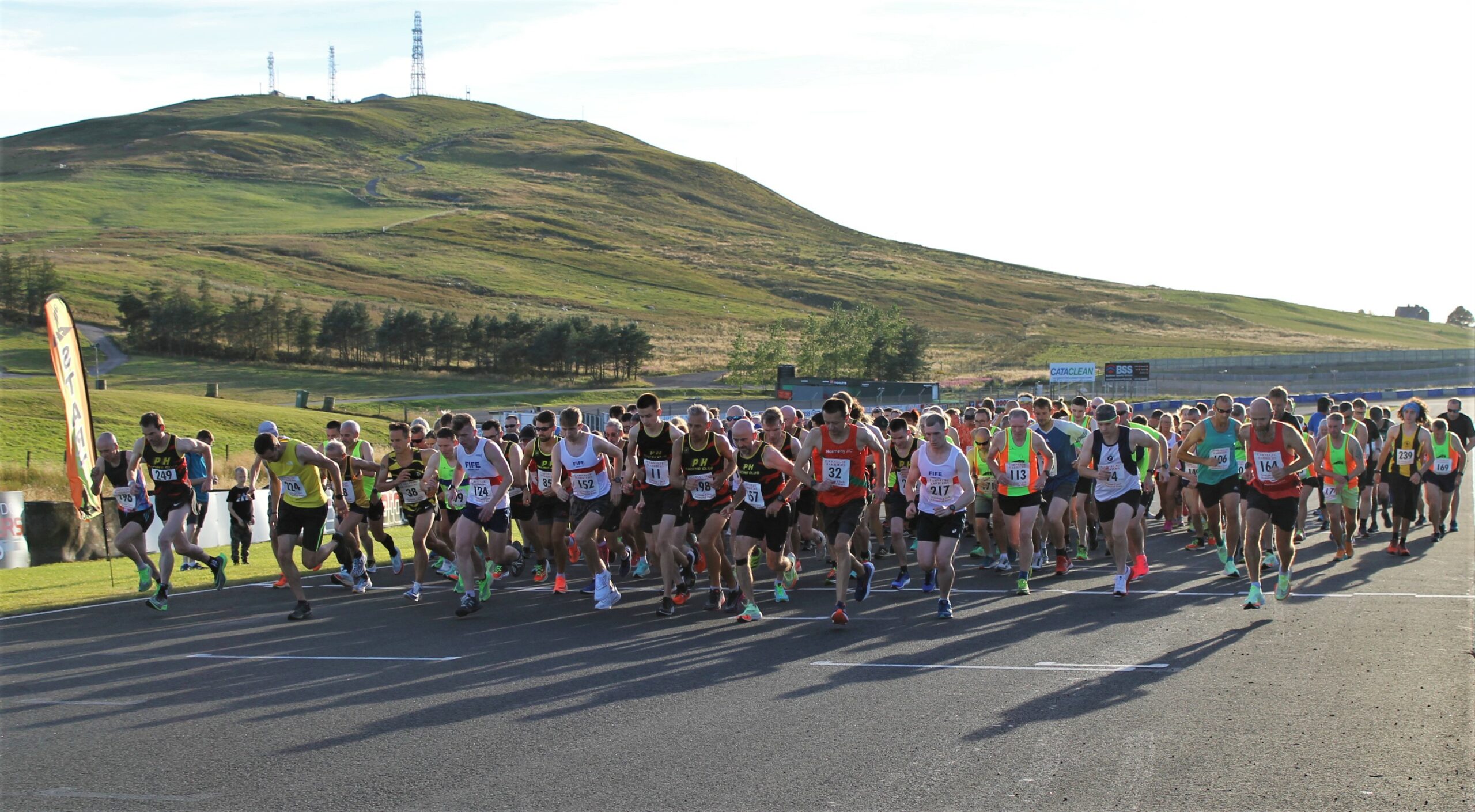 The Knockhill Race
9th August saw 205 runners descend on Knockhill Racing track for the 17th edition of the Graham Clark memorial race.  No other event gives runners the opportunity to take to the tarmac to race on two legs rather than on two wheels!  This year, runners were blessed with fine weather giving perfect racing conditions.  The race consists of 3 undulating laps of the iconic fife motor circuit.
The race is organised by Carnegie Harriers in memory of former club coach, Graham Clark who sadly died in 2003.
Charity Donations
Carnegie keep the costings and entry for this event as low as possible, in keeping with the policy to have more local affordable races in these times of hardship for many. Any surplus monies generated from the race are passed on to local charities and good causes. The club's membership are asked to suggest worthwhile local causes to donate to and this year the club decided to support two excellent local organisations, Eats Rosyth and the Dunfermline Foodbank.  Cheques for £500 each were presented to Sandra Beveridge of Dunfermline Foodbank and Ethan Daish, Food Project Manager, Eliza Twaddle, Greenspace Development Manager and Grant Stewart, Volunteering Development Coordinator of Eats Rosyth, by Club president Alan Murray and Race Director Val Macaulay.
"Big thanks to Carnegie Harriers for a generous donation to EATS Rosyth, following fundraising that took place at the Graham Clark Memorial Run at Knockhill last month. The money will be put to good use!
"
"A lovely visit last week from Carnegie Harriers Running Club to Dunfermline Foodbank, who kindly gave us a cheque for £500!! An amazing amount which will go a long way to help local families in need. Thank you all so much
"
Carnegie Harriers and it's members are happy to support these worthwhile causes, who do so much for the local community.
The Race
In the race itself, Ben Kinninmonth of Fife AC pipped Mark Ryan (20:27) of PH Racing to first place in an excellent time of 20:24, with PH teammate Andrew Wright taking 3rd place in 20:35.
Paul Kieran of PH Racing was 4th overall in 20:57, enough to win the prize for 1st MV40. 1st Male Senior went to Carter Taylor of Fife AC who ran 21:19, with 1st Male Junior was awarded to Aaron Bennet of PH Racing with a finish time of 21:59.
Chris Russell of Dunfermline Academy of SuperHeroes ran 21:56 to pick up the 1st MV50 prize, with the first MV60 prize awarded to Ian Brown (unattached) in an excellent 22:34. Lastly for the males, the MV70 prize was claimed by Tony Martin in a time of 24:52.
Carnegie's own Lee Holland took home the Andy Souter Trophy, awarded to the first Carnegie Harrier aged 50+. Lee crossed the line in 24:35 and 39th overall.
First female home and in overall 35th place was Julie Menzies of PH Racing in a great time of 24:22. Julie was closely followed home by Alison Berwick in 24:56, enough for a 2nd place Female finish and Sarah Paterson of Kinross Road Runners, who crossed the line in 25:39 for 3rd Female. 1st Female Senior went to Lucy Mitchell (unattached) in 26:56, with Lucy Ward of Perth Strathtay Harriers taking 1st Female Junior in an excellent 27:11.
1st FV40 prize was awarded to Judith Turner of PH Racing in 25:47, with Fiona Nicholl (28:13) of Wee County Harriers taking 1st MV50 and Carnegie's Isobel Burnett claiming the 1st FV60 prize in a speedy time of 27:10, which was also enough for Isobel to claim the Catherine Wilson Trophy, which is awarded to first Carnegie Harrier female home aged 50+.
Well done to all!
Winners
| | | | | | |
| --- | --- | --- | --- | --- | --- |
| | | | | | |
| Position | Name | Club | Time | Prize | Carnegie Harriers Trophies |
| 1 | Ben Kinninmonth | Fife Athletic Club | 20:24 | 1st Male | |
| 2 | Mark Ryan | PH Racing Club | 20:27 | 2nd Male | |
| 3 | Andrew Wright | PH Racing Club | 20:35 | 3rd Male | |
| 4 | Paul Kieran | PH Racing Club | 20:57 | 1st MV40 | |
| 6 | Carter Taylor | Fife Athletic Club | 21:19 | 1st Male Senior | |
| 12 | Chris Russell | Dunfermline Academy of SuperHeroes | 21:56 | 1st MV50 | |
| 13 | Aaron Bennet | PH Racing Club | 21:59 | 1st Male Junior | |
| 17 | Ian Brown | Unattached | 22:34 | 1st MV60 | |
| 35 | Julie Menzies | PH Racing Club | 24:22 | 1st Female | |
| 39 | Lee Holland | Carnegie Harriers | 24:35 | | Andy Soutar Trophy awarded to the first Carnegie Harrier man aged 50+ |
| 41 | Tony Martin | Falkland Trail Runners | 24:52 | 1st MV70 | |
| 43 | Alison Berwick | RTC Warriors | 24:56 | 2nd Female | |
| 54 | Sarah Paterson | Kinross Road Runners | 25:39 | 3rd Female | |
| 56 | Judith Turner | PH Racing Club | 25:47 | 1st FV40 | |
| 69 | Lucy Mitchell | Unattached | 26:56 | 1st Female Senior | |
| 72 | Isobel Burnett | Carnegie Harriers | 27:10 | 1st FV60 | Catherine Wilson Trophy awarded to first Carnegie Harrier woman aged 50+ |
| 73 | Lucy Ward | Perth Strathtay Harriers | 27:11 | 1st Female Junior | |
| 86 | Fiona Nicholl | Wee County Harriers | 28:13 | 1st FV50 | |
Full Results