Anyone who's run a marathon before knows that it can be quite an undertaking. Anyone who's run in the Lake District before will know the terrain can be quite challenging. Couple
these together and you have the Coniston Trail Marathon, part of the Lakeland Trails series.
This is no ordinary marathon; road aficionados need not apply. Starting and finishing by Coniston water, the race starts with a back route towards the town before heading towards the trails, following a clockwise run around Coniston Water. Sounds simple enough. Don't be fooled. This race chews up and spits out even the hardiest seasoned marathoner. With terrain mixing between rock, stone, marsh, beck, tree root, awkward stile and more, the going is tough. Throw in a course elevation of nearly 3,000ft and there's little in the way of respite.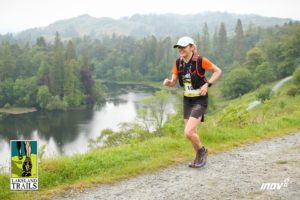 Allegedly 'the whole course gives panoramic views of Lake Coniston and the surrounding peaks of the Old Man, Swirl How, Wetherlam and Dow Crags'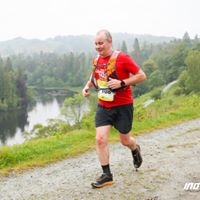 but on a grey damp Sunday this June there weren't views of much. Nor was there an opportunity to look up and admire any potential view as conditions underfoot were particularly tricky this year given the recent rainfall. Don't be put off, however, on a sunny day it's a great day out.
Colin & Lesley Reynolds took part in the marathon while Jane McLeod took part in the Challenge with times as follows:
Finishing times (Race)
Colin Reynolds 4:50:06
Lesley Reynolds 5:10:51
Finishing times (Challenge)
Jane McLeod 6:08:16