Race report from The 7 Hills of Edinburgh by Alan Murray
As most of my fellow Harriers know I am not really a hill runner, preferring the trails or road races with inclines kept to a minimum! Having ran Devils Burden a number of times (although I normally run a paired leg) and with a desire to finally finish that hill GP event to complete the ARC, I decided to go all in and run the 7 hills of Edinburgh. Was assured this was an easy one to start with ????
So what is it? Put simply, runners start at Calton Hill and run the 7 hills of Edinburgh in a set order, with no pre-defined route and no road closures. From Calton Hill runners must ascend and descend Castle Esplanade, Corstorphine, Craiglockhart, Braids, Blackford, Arthur's Seat and back to Calton Hill. There is a suggested route that gives a total mileage of 14.3 miles with 2200 ft of elevation, but you are essentially on your own, which is quite refreshing from the way marked route of most races.
The run itself is split into a 'Challenge' and a 'Race', depending on predicated finishing time, with the Challenge starting 30 minutes earlier at 9:45.
At 9:30am on Father's Day, 6 Harriers assembled on Calton Hill in sunny and mild conditions, a welcome change from the wind and rain of the previous week. Karen Forsyth and Sarah Marshall running the Challenge, with Alan Murray, Colin Reynolds, Michelle best and Kevin Davie running the Race.
The race start is pretty low key, all I heard was "don't get hit by a tram" and we were off charging down the steps from Calton Hill onto Regent Road then left up North Bridge, through the North Bridge Arcade (making sure not to kick over any tables) then right up the steep castle esplanade. This was a really fun start to the race, dodging bemused tourists and locals alike enjoying the early morning sun. Checkpoint 1 was at the steps of the Esplanade, then we headed off towards the West End, dodging traffic. Narrowly avoiding a collision with pedestrians, I ran towards Queensferry Street, Belford Road and then Ravelston Dykes. At this point, I had lost my fellow Harriers who had all gone off on their own directions, but I was not worried as I had recced the route a few weeks previously and was happy to stick to the route I knew.
The run to Corstorphine was a long, hot, two-mile stretch, ending in an ascending track up to Corstorphine Hill, where I caught up with Colin, then through trees, down some steps and across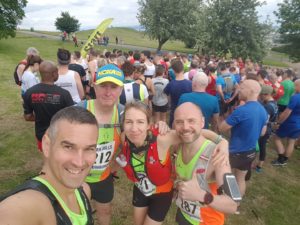 an open field to the first water station. From here, there was another climb up through the trees to checkpoint 2 at Clermiston Tower. Thankfully there was now a welcome long, downhill section to cross Corstorphine Road and head through Carricknowe and Chesser to the tennis centre at Craiglockhart. I ran this section with Colin for company, which helped pass the time! Even though this section was reasonably flat, the ascent of Corstorphine hill had taken its toll, and with further climbs to come, I pulled back the pace (sensible I thought!). Once behind the tennis courts at Craiglockhart, we were faced with a steep vertical bank to climb. I scrambled and slipped up this section, grabbing onto rocks and tree roots as I clambered to the top. Once safely negotiated I attempted to run the short incline to checkpoint 3, but my legs did not respond. Too tired from the clamber up the slope I shuffled to checkpoint 3, grabbed some food and drink and headed downhill to Braids. At this point I lost Colin so was back on my own again.
I weaved through residential streets, across a park and a busy main road then left to start the ascent of Braids. I decided to run all the way to the top in a show of bravado that I would regret later. As I weaved along a narrow path lined with gorse bushes up Braids hill, I came across a number of horse riders who shouted some words of encouragement (I really wanted a ride up the hill but thought that would be too cheeky to ask). Checkpoint 4 at the top of Braids hill was safely reached, where I punched my number, drank loads, stuffed some jelly babies down my throat, admired the stunning view from up there and headed across Braids golf course towards Blackford hill. A short, steep, fast descent through some gorse bushes followed (made even faster by the fact that I slid most of the way down on my backside) which led me out onto a road – straight in front of an oncoming taxi (oops) before entering a gate on the other side and running down towards the base of Blackford Hill, where I encountered a number of fellow runners looking a bit lost. We chatted for a bit to find the best route, I wanted to go left as per my recce, but the others were adamant that right was quicker. This was my first mistake, as I deviated from my planned route and went right with the others along a winding track, across a bridge over a burn then up a steep narrow path next to a fence surrounded by more bloody gorse. A right turn and up a set of steps, that seemed to go on for ever, before a short shuffle to checkpoint 5 on Blackford Hill where I had more water and sustenance.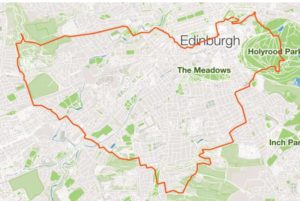 At this point I could see runners at the top of Arthur's seat, as it dawned on me that I had to get up there too and by this point my legs ached, I was sweating profusely, and my brain had started to malfunction! I started the descent towards Arthur's Seat from Blackford Hill. A welcome hosepipe shower, from someone's garden on Observatory Road, helped me on my way. I met up with Karen at this point, giving her some words of encouragement (I hope?) before running the standard shortcut through some allotments, the gardeners there cheered me on. I had a plan to knock out some 7 ish minute mile pace efforts along the streets towards Arthur's Seats, but that proved quite challenging, as some of the roads were on an incline and my legs were very tired by this stage. Running through Pollock Halls helped me to cut a small corner and as I emerged, I could see the long ascent up Arthur's seat.
Although I had coped with the hills becoming progressively steeper throughout the race, I found the climb up Arthur's seat to be an absolute killer. Queues of runners, walkers and tourists were winding their way the uneven steps, interspersed with rock climbing in places, followed by a steep clamber up to the final summit and checkpoint 6. The top was windy and full of tourists and casual walkers all jockeying for position. No running was taking place at this point, just survival!
I started the precarious descent down the rock face then scrambled down the side of the hill and heading towards Holyrood Palace. A quick chat with Barry (and Keira) before heading round the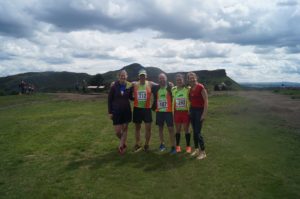 back of Holyrood Palace, up onto Regent Road (this was the wrong way but I was too tired to care at this point, see previous brain malfunction comment!) before turning right and shuffling up Calton hill to cross the finish line in a credible 2:48:40, having covered 15.1 miles (about 0.9 miles above the shortest mileage to complete the route!).
Colin, Sarah and Michelle were already back with Karen not too far behind. Kevin showed up some time later, after an unexpected detour (but we give him huge Kudos for seeing the race out).
I really enjoyed this race but as an inexperienced hill runner, I found this tough!!
The race atmosphere is fun and low key. Everyone on the route is very supportive and the organisation is excellent for such a unique, big city race. The route is achievable by all running abilities, but it is a tough challenge. All uphill sections are followed by descents and flat sections, which give opportunities for recovery (just not fast recoveries!). Runners can walk sections, without feeling guilty, and participants support each other as the run progresses, so it's a really supportive race.
Great racing by all 6 CH members and a thoroughly enjoyable way to spend Father's Day.
Do I now consider myself to be a hill runner? Well no, but I will be back for more!!
'Race'
149 21 Michelle Best 2:31:24
173 212 Colin Reynolds 2:38:55
190 187 Alan Murray 2:48:40
209 59 Kevin Davie 3:19:04
'Challenge'
169 505 Sarah Marshall 2:58:18
264 392 Karen Forsyth 3:29:49