Lindsays' Scottish Athletics National Short Course Cross Country Championships
19 Harriers made the short journey to Dunnikier Park in Kirkcaldy to take part in the National Short Course Cross Country Race. The promise of racing against 2 Olympians in the shape of Andrew Butchart and Callum Hawkins added to the excitement on the day, although we were disappointed to hear that Callum Hawkins had pulled out late on, denying us the chance to witness 2 Olympians going head to head on local soil.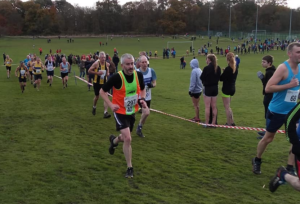 The race itself consisted of a 4km course (2 laps of Dunnikier park). Conditions for the race were tough, with very soft underfoot conditions, making it hard for all runners, even the Olympians. The women's race started first followed closely by the men's race. The race start was busy as always with the runners jockeying for position as the gun sounded. A gentle flat start lulls runners into a false sense of security as a steady muddy incline soon follows that is the first sign that the mud is going to sap the energy from the legs. The incline is soon followed by a longish downhill section, but even this proved tough as staying upright was a feat in itself. The route then skirted the main road, which was the muddiest part of the race, how no one lost a shoe is anyone's guess. Once the muddy slidey section is negotiated there is a small flat section onto the second loop. By now the course is even muddier than the start of the race, as the runners churn up the course even more. The second lap is just as energy sapping, taking all your energy just to stay upright. After the muddy, slidey section next to the main road, runners  then have a sprint finish to the end, if there was any energy left in the old legs.
In the women's race the honours for the Harriers went to Alison Sutherland followed by Michelle Best with Gail Murdoch digging in to overhaul Joy Gudgin in the closing stages of the race.
In the men's race, Jonathan Millar led throughout, with Barry Davie overtaking Graham Wilde to finish second Harrier, whilst John Hynd showed few after effects from his marathon in New York to come in as our fourth counter. Well done to all our runners and those who went along to support.
A really enjoyable day on a tough course.
Mens Results
| Pos | Name | Bib | | Gun Time |
| --- | --- | --- | --- | --- |
| 267 | Jonathan Millar | 293 | | 00:16:10 |
| 316 | Barry Davie | 294 | | 00:16:58 |
| 325 | Graham Wilde | 296 | | 00:17:13 |
| 346 | John Hynd | 304 | | 00:17:29 |
| 349 | Alan Murray | 298 | | 00:17:34 |
| 366 | Brian Miller | 297 | | 00:18:02 |
| 368 | David Morton | 295 | | 00:18:03 |
| 394 | Andrew Sim | 300 | | 00:18:59 |
| 395 | Kieran Morgan | 301 | | 00:19:02 |
| 427 | Stephen Greer | 303 | | 00:21:49 |
Womens Results
| Pos | Name | Bib | | Gun Time |
| --- | --- | --- | --- | --- |
| 100 | Alison Sutherland | 1247 | | 00:17:21 |
| 131 | Michelle Best | 1249 | | 00:18:06 |
| 143 | Gail Murdoch | 1253 | | 00:18:30 |
| 147 | Joy Gudgin | 1255 | | 00:18:34 |
| 174 | Lesley Reynolds | 1254 | | 00:19:24 |
| 196 | Helena Sim | 1256 | | 00:20:13 |
| 199 | Karen Forsyth | 1245 | | 00:20:15 |
| 214 | Natalie Mcgill | 1251 | | 00:20:59 |
| 216 | Kerry Hunter | 1246 | | 00:21:03 |