Loch Leven Half Marathon Race Report by Brian Miller
7 Harriers made the short trip to Kinross for the Loch Leven Half Marathon on Saturday 11th May.
Registration was at the Loch Leven Community Campus, and whilst it was busy (a football tournament was also on), there were plenty of parking spaces to go round. The entry fee for the race was a "Pay as you Go" option – you could pay the entry fee only, or elect to pay for a t-shirt and/or medal in addition – runners seemed to appreciate this flexibility, as not everybody wants the bling.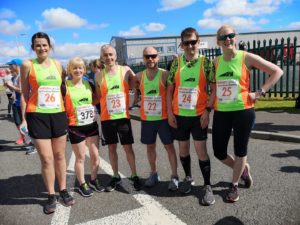 The Start line was a mile or so from Registration, so a good opportunity for a warm up.
We were off at 11am sharp in sunny conditions, but with enough of a breeze to keep you cool. The breeze also kept the infamous local flies and midges at bay for most of the route, but there were a few pockets of the race where it was best to keep your mouth closed.
It was a hard race to run, but once everyone was over the wee hill at Scotlandwell, the end was something you could realistically think about.
1st Harrier home was Kevin Boyd in 1:24:40, claiming a PB and 11th place overall. Brian Miller was next, in 1:37:55, closely followed by Alan Murray in 1:38:12. Gemma McKee was first Female Harrier to finish, clocking a fantastic PB of 1:45:41. Sarah Marshall (1:53:55), Karl Zaczek (1:57:31) and Sarah Wellcoat (1:59:34) sped home, ensuring that we all finished in sub-2 hours – a cracking performance in a tough race.