Mulgrave Castle 10k trail, North Yorkshire, Sunday 2 June 2019. Report by Niall Paterson
Tough, hilly course. At 470m, more climbing than Path of Condie and a ridiculously steep finish (think Black Rock on steroids). Bang went my hopes for a comfortable sub-60 jog!
We were camping with the pooch near Whitby and I'd spotted this local race beforehand. £10 online, max 200, refreshments in cricket pavilion. All boxes ticked.
Runners were walked down to the start, touching forelocks or brandishing pitchforks, depending on your politics, as we passed the legoland stately home of the Marquis and Marchioness of Normanby.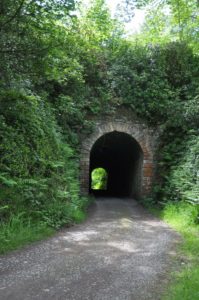 Mostly Yorkshire club runners in the field of 149, we were off. The next 9 miles involved a rollercoaster ride through mixed woodland on good, dry surfaces. Features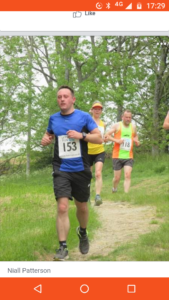 included the pitch black tunnel (twice), bridges, water stop, a ford (not deep enough for me, I was burning up with the 22° heat). Luckily, the trees provided some shade, though the 11am start meant the sun always found its way through.
I was going well, knees and calves good, though conscious of the CAAC 5 coming a few days later, so happy to stay comfortable around the 6min/km mark.
Having jogged up the hills (think: belly button, shoulders, stance, thanks Lesley!) I was hoping I'd something in the tank for the infamous finish.
Not a hope. Rounding a bend in a low glen (there were two valleys on the route), with barely 400m to go, the path shot up at a scary angle for the final climb. Slow jog, ease off, check behind me, ok, now everyone's walking… And on it seemed to go, up, up all the way to the finish line. Like most, I picked up the pace in the final yards to cross (1:03:26 though that proved to be hardly the point!) and, like most, collapsed in the long grass to recover.
A great wee friendly event, rounded off with bacon rolls and home baking – that's what I talk about when I talk about running!
If you're in the area next June I recommend it.