GP RACE 4: Loch Leven Half Marathon
Race Report by Alan Murray
31 super keen Harriers rocked up to the start line of the ever popular Loch Leven Half Marathon in search of a great race, precious early season GP points and some also looking for a fast time.
As members trickled towards the start line at the Industrial Estate on Clashburn Road at the south of the town, the PA announced that Carnegie were the 2nd best represented club on the day, a testament to the enthusiasm for the new GP format and the race itself.
Organisers Kinross Road Runners had announced that for the first time, the race would be run on closed roads and with weather conditions favourable, we lined up at the start line eager for the off.
Those who have run this race in the past, will be all to familiar with the midge problem in previous years! Thankfully a cool breeze seemed to be keeping them at bay this year, much to the annoyance of those who were looking forward to ingesting a bit off extra sustenance on the way round!
The route of the Loch Leven Half must be one of the easiest to navigate in Scotland as you only need to turn right once then 3 left turns to get home. The start in the industrial estate does not give a true reflection of the lovely views afforded runners as they round the loch.
The start gun was fired by Fife's own Olympian Eildh Doyle at 9am on the dot. The industrial estate section does not last long as runners turn right and begin a gradual climb along a quiet B road, before turning left along towards Vane Farm by Loch Leven itself. The route is undulating at this point, giving runners the chance to preserve some energy for the climbs and then make up the time by blasting the downhills.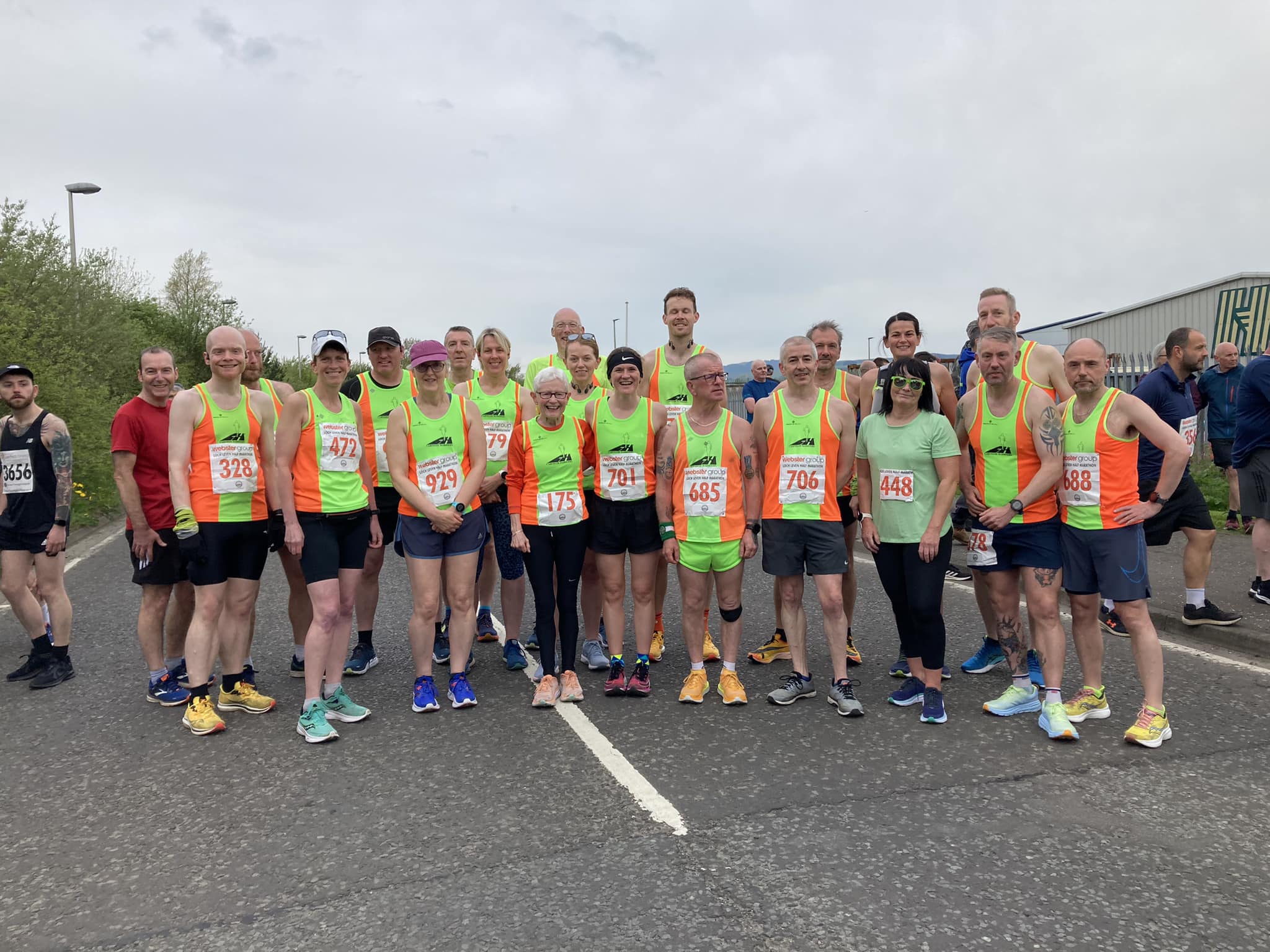 My own personal goal was to try and break 90 minutes after a great marathon training block and race in London, but I knew that would be a tough ask 10 days post marathon and on an undulating (lets call it hilly) route. "He who dares Rodney, he who dares.."
As we passed Vane Farm I kept Steven King in sight (fellow MV50-er Lee Holland was well gone), with the thought being if I can still see him at the end, then there would be a high chance that sub 90 was on!
Once passed Vane Farm, the route turns left (left turn 2) towards Scotlandwell and passed the gliding school. The temptation here is to hit this section hard as it's mainly downhill, but you really need to back off to save energy for the sting in the tail, yes the hill up through Scotlandwell.
The hilly section up from Scotlandwell is energy sapping and once you think you have reached the top, there a still a few 'bumps' to be negotiated before you can safely think the hill is over. Off course, what goes up, must come down, and the route back to Loch Leven School Campus is mainly (not completely) downhill.
Once I got through Scotlandwell I felt good. Normally at this point I would start to struggle as the hill (did I mention that?) takes it's toll. Glancing at my watch I could see I was 1 minute ahead of sub 90 pace, which gave me the boost to push on.
The route continues to undulate until the final left turn down onto a mainly trail section for the last few miles to the finish. I could still make out the silhouette of Steven King in the distance (the advantage of the bright Tic-Tac vest!!), so I knew I could get a good time if I pushed on. There were three runners just ahead of me, so I tucked in behind them for 1/2 mile or so for a bit of draft excluding, a welcome move.
The trail soon gives way to some tarmac into a housing estate. At this point I looked at my watch again briefly to see that I was 50 seconds ahead of sub 90 minute pace. Having not met my goal finish time at London, I was determined not to let this chance of sub 90 slip by. One final small climb (although at this stage no incline appears small) before a final surge by Loch Leven Community School to the finish line. The crowd at the final few metres to the finish was plentiful and a real boost to grit the teeth and sprint for the line! Across the line and a shout out from the excellent PA.
I finished in 1:29:04, smashing 90 minutes! Just one of those all to rare days when everything clicks.
Fellow CH finishers were milling around the finish line area. I hobbled over to shout sub 90 and share my news, but had to retreat to a wall by the main road to be sick. I have never been sick after a race before and wondered why this happened. Suspect this is how it feels when you have really pushed things, maybe too much?
Once composed, I grabbed a medal, banana and some water then waited by the finish line to greet fellow members.
As CH runner after CH runner crossed the line with big smiles and tales of PBs, it was clear that many had ran an awesome race! Well done to all, it is by no means an easy or PB course. Lots of 1/2 marathon PBs for the likes of Jamie, myself, Kevin, Sarah Wellcoat, Charlotte and Kathryn, so give yourself a massive pat on the back for 'Leven' with a PB. Apologies if you PB'd and you have been missed out. Was hard to keep up with so many in one race! Also a shout out to Natalie Wilson who ran her first ever half.
Jamie Harte and Nicole Jackson were first male and female home in 01:23:53 and 01:26:52, respectively, with age category medal positions for Nicole, Gail Beveridge and Jane McLeod. Well done all!
Back again next year, you betcha!
Results
| | | | | | | | | |
| --- | --- | --- | --- | --- | --- | --- | --- | --- |
| Pos | Race No | Name | Time | Chip Time | Category | Cat Pos | Gender | Gen Pos |
| 27 | 725 | Jamie HARTE | 01:23:53 | 01:23:51 | M Open | 13 | Male | 26 |
| 42 | 699 | Blair GEDDES | 01:26:15 | 01:25:57 | M Open | 18 | Male | 39 |
| 44 | 701 | Nicole JACKSON | 01:26:52 | 01:26:50 | F Open | 3 | Female | 4 |
| 53 | 490 | Lee HOLLAND | 01:27:38 | 01:27:36 | M50 | 8 | Male | 47 |
| 61 | 473 | Steven KING | 01:28:53 | 01:28:51 | M50 | 10 | Male | 55 |
| 64 | 688 | Alan MURRAY | 01:29:09 | 01:29:05 | M50 | 11 | Male | 57 |
| 78 | 803 | Jonathan MILLAR | 01:30:41 | 01:30:38 | M Open | 29 | Male | 70 |
| 81 | 878 | Kevin BOYD | 01:30:47 | 01:30:43 | M40 | 28 | Male | 73 |
| 110 | 698 | Kevin SPOWART | 01:33:23 | 01:33:17 | M40 | 36 | Male | 98 |
| 119 | 328 | Nils KRICHEL | 01:34:06 | 01:34:01 | M Open | 41 | Male | 105 |
| 151 | 943 | Samantha LAIRD | 01:37:01 | 01:36:55 | F40 | 7 | Female | 20 |
| 178 | 696 | John HYND | 01:39:30 | 01:39:28 | M60 | 6 | Male | 151 |
| 203 | 691 | Charlotte BRIGGS | 01:41:58 | 01:41:53 | F Open | 19 | Female | 37 |
| 239 | 281 | Alison MURRAY | 01:43:56 | 01:43:49 | F40 | 18 | Female | 46 |
| 251 | 704 | Sarah MARSHALL | 01:44:49 | 01:44:40 | F40 | 20 | Female | 48 |
| 255 | 836 | Kathryn FAIRFIELD | 01:44:55 | 01:44:41 | F40 | 22 | Female | 51 |
| 268 | 689 | Stuart KING | 01:45:56 | 01:45:42 | M50 | 47 | Male | 215 |
| 277 | 685 | Allan BRANNIGAN | 01:46:41 | 01:46:35 | M60 | 7 | Male | 223 |
| 286 | 706 | Brian MILLER | 01:47:40 | 01:47:33 | M40 | 83 | Male | 229 |
| 303 | 697 | Sarah WELLCOAT | 01:48:43 | 01:48:29 | F Open | 34 | Female | 66 |
| 322 | 948 | Andrew SPENCE | 01:49:43 | 01:49:36 | M Open | 91 | Male | 250 |
| 358 | 683 | Gordon SOMERVILLE | 01:52:00 | 01:51:50 | M60 | 14 | Male | 274 |
| 371 | 3664 | Emma HENDERSON | 01:52:37 | 01:52:31 | F Open | 44 | Female | 89 |
| 389 | 472 | Gail MURDOCH | 01:53:58 | 01:53:52 | F50 | 13 | Female | 100 |
| 391 | 708 | Craig ARNOTT | 01:54:05 | 01:53:49 | M40 | 101 | Male | 291 |
| 494 | 700 | Zuleika BRETT | 02:01:11 | 02:00:47 | F40 | 50 | Female | 142 |
| 511 | 929 | Gail BEVERIDGE | 02:02:25 | 02:02:00 | F60 | 2 | Female | 147 |
| 521 | 746 | Steve MOWBRAY | 02:03:11 | 02:02:46 | M50 | 89 | Male | 369 |
| 560 | 879 | Natalie WILSON | 02:06:29 | 02:06:06 | F40 | 60 | Female | 171 |
| 622 | 175 | Jane MACLEOD | 02:10:45 | 02:10:20 | F70 | 3 | Female | 208 |
| 694 | 182 | Donald MACLEOD | 02:20:41 | 02:20:08 | M60 | 36 | Male | 447 |