Many thanks to Zuleika Brett for this report on her recent trip to North Yorkshire.
This was my first time taking part in this particular 'Endurance Life' race route. I have however completed a fair few of their other events: Pembrokeshire Marathon, and half marathon; and Northumberland marathon and half marathon distances. These and the North Yorkshire Moors are part of their Coastal Trail Running Series, and they take you to beautiful parts of the UK, mainly through national parks.  I therefore expected good organisation, beautiful scenery, and a lovely trail route. It delivered all three.
The North York Moors race route is within the National Park, and was as per the race description a mix of moorland and grassland. It's also described as 'level 2, moderate' – which I guess is fair, it's not technical as a trail race. I would suggest however that their level 2 can still be gruelling, as for example their Northumberland race is also graded a level 2, and the first year I did Northumberland marathon you had to sign a disclaimer saying you could comfortably swim 50 metres unaided. I thought it was perhaps a mistake on the form, until I found myself up to my chest in sea water as part of the 'trail run' (ace fun!). Sadly, they've now altered the route.
Anyway, back to North York Moors. As my race training had been very little – as in no runs longer than 7 miles – I thought I'd best downgrade myself from the full marathon to the half; that was wise.
All race lengths start and end in the same place, up on the cliffs at Ravenscar, overlooking the sea. It was brilliant sunshine, a tad nippy, and a fair wind, but frankly I'd expected horizontal rain and was therefore delighted with the weather.
A note on the other North York Moor race lengths – The 10K, Marathon and Ultra distances all head south along the coast, following the Cleveland Way long-distance path. All are loops, with the 10K being one simple loop, while the full marathon and ultra follow figures of eight loops. The Marathon and Ultra deviate off the Cleveland Way to head inland to Cloughton before looping back on inland paths to continue past the starting point and follow the Half Marathon route that heads northwards from Ravenscar. The Ultra (nutters!) also have to follow this route, but then repeat the south loop again. It's probably easier to show this on a map but basically the ultra participants are in Ravenscar 4 times. That seems like hell! I was happy to simply start and end there.
The half route seemed like a perfect choice in comparison to the others, as we headed north and quickly joined the Cleveland Way which runs along the cliff tops, and experienced spectacular scenery out to sea, and had a good view of the rugged cliff formations in front of us.
A few fairly gentle miles in, we got closer to those views when we descended on to the beach. Thankfully, mainly running over rock and surprisingly non-too slippy seaweed until we reached the fishing village of Robin Hood's Bay. The smell of fish and chips was strong. Something that's not always enjoyable when you're feeling already a little knackered (reminds me of the CH hill rep sessions along Dunfy high street!).
Robin Hood Bay looks like it'd be a delightful place to spend time in…I did wonder if I might have just enjoyed a pint at this point. But, there were people looking and I thought I'd best try and look like I had zero doubt on my life choices so headed on past the pubs, cafes and cute independent shops, and up through the village – along such a steep little road, the first of the steep climbs. Lots of local supporters, and tourists looking perplexed and amused in equal measure.
Having climbed out of Robin Hood's Bay we re-joined the Cleveland Way again. It's only when we took a turn inland and back on ourselves that things got pretty steep for the second time, but then you're rewarded by a long gentle downhill section that still gives you those views out to sea. Here there's a mix of woodland paths, farm tracks, and just a few short road sections. Mainly, the ground was pretty comfortable, and only a few muddy patches.
From about 8 miles in, it's feels like it's one long ascent, with a very long climb from mile 11 – 14 (note this half marathon is 15 miles) which is across the moors. I was wishing I had my suncream on at this stage, and envious of all with shorts. It felt summery even, and I am pretty sure there were butterflies sunning themselves on the paths – but I can't be completely sure I wasn't seeing things by this stage. Definitely the CH hill running sessions paid off, and I managed to catch up on a few people on this ascent.
The last mile is pretty much all downhill, but with a little flick upwards at the end…which is a killer, but you can see the finish flags for most of that final section, which helps.
I have to admit, I was happy to simply finish, and most importantly to have enjoyed it. It's tricky on these sorts of races to compare times, even on those where I've completed them previously as differences in wind direction, hardness of the sand etc all can drastically change the finish times. Considering that at the start everyone looked fit and healthy, I felt that being in the middle was a good result. The atmosphere is very supportive, with opportunities to chat to folk as you go around (if you're in the relaxed middle of the field section of participants). I also spent quite a bit of time by myself too, just enjoying the peace and quiet, beautiful scenery, and time to think.
I'd recommend to anyone who loves trail races to do this one. Similarly, if you haven't done many trail races and do fancy trying one, the Endurance Life series is good because they are very well organised and not too technical (at least not at level 2, moderate). Total of 129 runners finished, with 3 hours difference between first over line and last to complete, which shows the range. I finished 76th with a time of 2:58:37. 1982ft ascent, but felt like more. It's also 15 miles, so I'm calling it an ultra-half!
I made a weekend of it staying in nearby Whitby, a 25 min or so drive away from the start (where there was a car park for participants). Whitby was lovely to stay in, and I used an Airbnb cottage, which worked out perfectly if anyone fancies a recommendation please say. Spending the afternoon following the race exploring Whitby was fun and it was a great time of year near to Halloween to be here as they very much embrace the gothic, particularly with its inspiring Bram Stoker's Dracula. We even climbed the steps up to the Abbey (more hills!), just to keep the legs ticking over – they were really done in by this point. Definitely recommend booking restaurants in advance, although 'having' to fall back on fish and chips really wouldn't be a disaster either.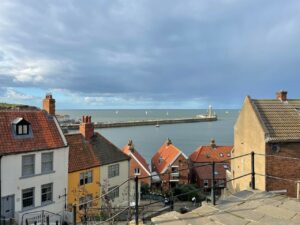 Lovely old cottages in Whitby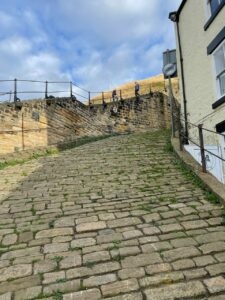 More hills to climb – up to the Abbey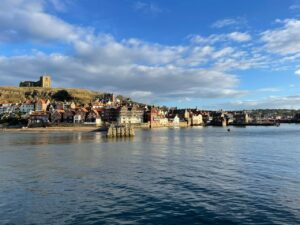 Beautiful Whitby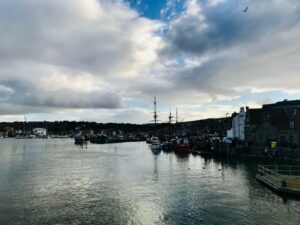 Sailboats in Whitby Harbour