Round the Houses 10k Race Report by Sue Walker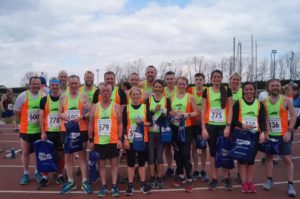 Round the Houses 10k is now on its 51st running so despite failing in the scenery stakes, it must have something going for it. It has. It's a flat course, with wide paths so plenty of room for all. It incorporates the university championships and also the east district championships so it attracts a young, fast crowd, as well as those of a more modest pace. It is well managed and marshalled and offers fairly good value for money.
Sunday was bright but cool with a strong breeze from the north east – all in all a good day for racing. First placed was Commonwealth medallist Robbie Simpson in a chip time of 30:03 and the final finisher did it in 1:26:14. Our highest placed Carnegie harrier was Dave Morton in 40:56.
Podium places went to Joy Gudgin, 2nd V55, and Jane McLeod, 1st V60. There were PBs galore among the 24 harriers who ran and lots of smiles. Big kudos to Barry Davie who cycled over as a wee warm up and only got his running kit a few minutes before the race!