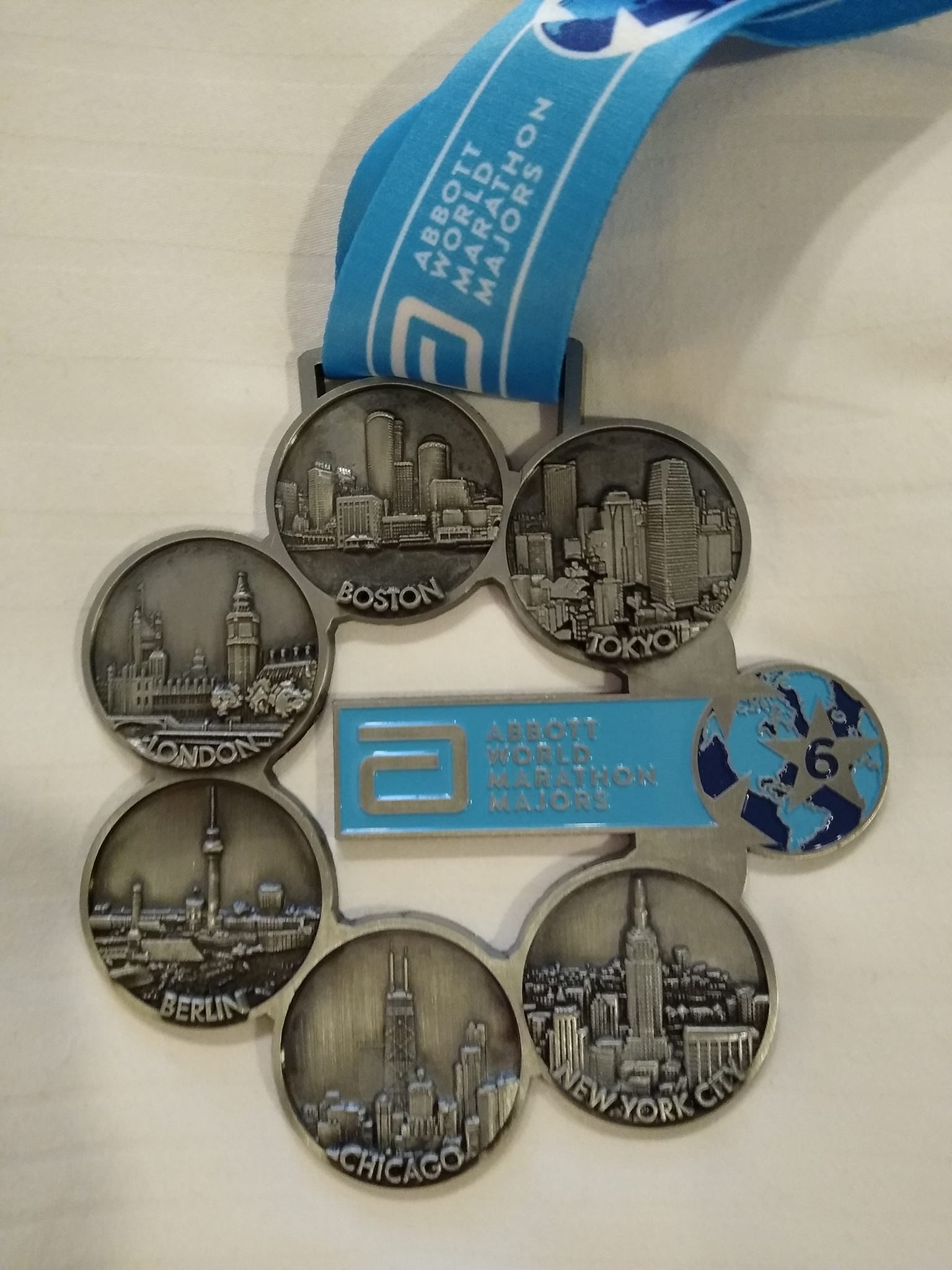 Race Report from the Tokyo Marathon by Gail Murdoch
It wasn't until I ran the Boston marathon in 2022 that I seriously contemplated running the Tokyo marathon to complete all 6 majors. I knew I was past being able to qualify for an entry, and the chance of getting a ballot place was very low. Also, finding marathon training increasingly hard as I'm getting older and with various injuries, I reckoned I'd have to run it sooner rather than later before my marathon career was over. So, I applied for a marathon tour place. These were at a premium as many places were already taken up by people who had had their tours postponed due to Covid cancelling the race for the last 2 years.
I was very fortunate to secure a place with Sports Tours International. This guaranteed both Steven and I an entry to the marathon and Steven (who is officially retired from running marathons….) agreed to run the race with me.
A couple of weeks before we left for Tokyo we were informed that we would not get a bag drop and we would not be able to dump clothes at the start. Any clothes we wanted to wear before or after the marathon would need to be carried in a backpack, as well as our smart phones. We needed our phones to confirm we had completed a health declaration and measuring our temperatures the week before, and showing we had 2 negative covid tests prior to the marathon, in order to get into our start pens. We also had a temperature check before we were allowed into the start. Fortunately, after many complaints, the organisers saw sense and decided to let people wear clothing prior to the start to keep them warm, which could then be dumped just before the race began.
It was very cold before the race and the extra clothing was needed. Everything seemed pretty organised till we joined the queue for the toilets an hour before we needed to be in our start pen. An hour later we were still in the queue.
We had to abandon our attempt for a pre-race toilet visit or we'd miss our start. Standing on the start line with full bladders was not great.
When the race started it was the most congested I've ever experienced at the beginning of a marathon. After a mile or 2 we stopped for the toilet. We had to wait in a queue for a few minutes, but it was essential to allow us to enjoy the run. The course itself is flat and is all through the city. Not the most inspiring of courses with lots of switch backs, but this allowed us to see the leading men, as well as a couple of running friends – John Beveridge from Kinross Road Runners and ex-Harrier Morna Fleming, which is amazing in a field of 38,000. It gave us all a much needed boost shouting out to each other.
There was a lot of support on the course but quite subdued in comparison to the other majors.
I struggled with issues with my feet and hamstring (pre-existing problems) and Steven struggled running at my slower pace, but it was great to share the experience with each other. It was cold at the start but once we were running the weather conditions were perfect. As previously mentioned, I wasn't running for a time but I have to admit I was a wee bit frustrated that I missed the sub 4 hours by 36 seconds. This would have been possible if they had had enough toilets at the start and if I hadn't had to run 26.9 miles as I weaved in and out of a very busy field of runners. But I guess that's marathons for you.
It was amazing to collect my 6 star medal at the end. All very emotional. It was very organised. You needed to register with Abbott's majors in advance to be able to collect your medal at the end.
We were given fleecy ponchos at the end to keep warm (if only we had been told this before we carried all our clothes in our backpacks!!). The finish was all very efficient. We didn't have far to walk before we reached the bus to take us back to the hotel as part of our tour package. Again, all very organised.
Going on the tour package took a lot of the stress away from the trip. They organised escort to the expo, transport to and from the marathon, transport and tickets to the post race party, which was well worth it. There was also a day tour in Tokyo then onward transport on the bullet train to Kyoto the day after the race. This extension package gave us 2 ½ days tour of the local area. The hotels were great, as was the food (although sometimes we weren't sure what we were eating!) We packed in loads into a short visit and really got a chance to experience the culture of Japan. It was very busy, clean, organised, everyone was very helpful and respectful. Booking with a tour company definitely reduced the stress of travel and organisation, and it guaranteed us race entries. The transport system is very good and pretty easy to follow if you were going it alone. Most signs have English translation (although not always on the menus in restaurants). Vegetarians are well catered for but you'll be struggling if you are gluten free. It was a long way to go half way round the world, for 7 nights, travelling for over 24 hours each way and a 9 hour time difference, but it was a great experience. Very tiring both directions. I wouldn't target it for a PB.
I still can't believe we have run the Tokyo marathon. All seems quite surreal. But I guess we've got the medals to prove it! If you get the chance, DO IT!!