Smokies 10 mile race for women 2022
  A race report from Pauline Walker covering 30 years…….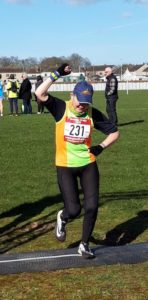 Well done to all Carnegie Ladies completing the challenging Arbroath Footers 10 mile race this year, whether it be your first or 30th (me) so please forgive my trip down memory lane.  The boring stats first, I've completed in times from 69 to 95 minutes (over the years averaging 79 minutes) no bad for an auld(ish) Fifie Wifie.
The weather this year was fabulous, sunshine and no wind.  In 2002 I had splits of 43 minutes out (uphill into the wind) and 34 minutes home (downhill with the wind).  Don't remember which year but I once had a nose bleed, messy tee-shirt (told you it was hilly!). In 2001 foot and mouth disease delayed the race until May and in 2018 the Beast from the East delayed the race race until April and no race in 2021.  Whatever the weather there is lovely support and camaraderie from the Ladies taking part and smiley Marshals always encouraging.  There used to be wee signs along the route pointing out "Galanthus – Snowdrops", "the Silvery Tay", "Undulations" and "the Last undulation".
Missing this year was the after race buffet but Carnegie enjoyed a finish line picnic in the sunshine, many thanks for the sandwiches and home-baking produced – well done folks.  Other wee highlights this year were the bull pawing the ground and slavering at the fence, I was ready for a bit of fartlek if required and the ponies having a gallop (those of us old enough will remember the Black Beauty theme tune).
I will admit to being a bit nervous before the race, my first in a while, knocked the spiders off my racing road shoes, had to remind myself what clobber was required, but loved the thrill of the race environment again and saying hello to new members was just lovely.  There is light at the end of the Covid tunnel and almost a year from my brain haemorrhage this was a big tick in the box and a huge confidence booster.  This was a good day!