HOMAGE TO THE HARRIERS AS PERFORMANCE PEAKS AT PERTH !!
This is a story not so much about me but more about the therapy, both physical and mental, that running can provide. In particular if the training regime includes a well run and supportive running club !!
3 years ago I was diagnosed with non-Hodgkin's lymphoma and underwent a year's intensive treatment which thankfully has been successful so far. Post treatment I set myself many targets in life one of which was to get back into regular exercise and, with Kieran Morgan's encouragement, I signed up with Carnegie Harriers in late 2021.
It's been a long road back with my haemoglobin taking ages to get back to anything like normal and a whole variety of niggling injuries as my body readjusted to the demands I was making of it. The low point for me was finishing second last in the Sri Chimnoy 5K in 2022 where the only person I beat was someone called DNF !!
However this year has been much better with me feeling much stronger and I set myself targets of 28 and then 27 minutes for 5K together with a sub 60 minute 10K. Sub 27 minutes was knocked off at Arbroath Parkrun a few weeks back and then it was on to the Perth 10K last Sunday.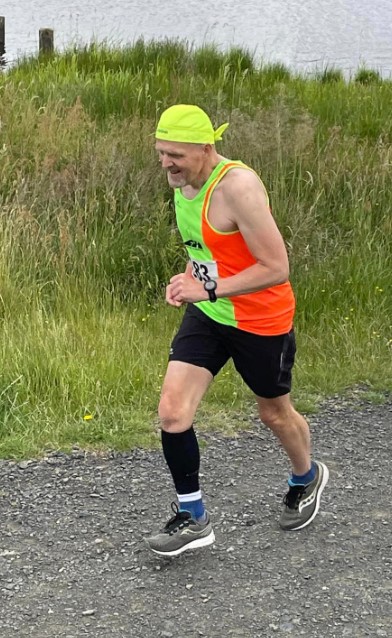 It was a decent day for running at 16 degrees, not much wind and a pretty flat course. Those of you who have done the Perth Parkrun will know the course on the North Inch. However the 10K sets off in the opposite direction, follows the riverside path, through North Muirton housing estate and through Perth Food Park before rejoining the riverside path back to the finish at the North Inch. The route is mainly path and pavement with a bit of grass thrown in.
I had set my pace to be 5:40 per K but knew I would struggle a bit towards the end since disrupted training had only got me as far as 8K. Needless to say I set off a bit faster but settled down to a steadyish pace aided by a lady who was going at the same pace. She saw my t shirt and said that she was an ex Harrier from Aberdour but unfortunately I didn't get her name. I followed her and then she followed me but I lost her after about 6K. I had gone through 5K in just under 28 minutes so was feeling good but the legs were starting to get a bit heavy by the time 8K arrived.
At 9K my buddy caught me up and encouraged me to lift my pace and we cracked on towards the finish before she burned me off in the last 100 metres !! However I was delighted to finish in 57:56 comfortably beating my target. A decent run on a nice flat course and ideal for the PBs I think. It was also great to meet my good buddy and sometimes training partner Kieran after the race.
So back to the benefits of running and especially Carnegie Harriers. I cannot emphasise how much of a positive driver it has been in my recovery. I am sure that the Couch to 5K guys would say exactly the same. On good days you feel immortal !!
Here's to Carnegie Harriers, a really well organised club with excellent and supportive trainers and members. Thank you to you all !!
For me it's continuing to get stronger and taking on a few more hills.
Report by Graeme Stirling