The River Ayr Way must qualify as one of the cheapest ultras around – only £24 (60p/mile!) and for that you get a well organised race, a medal and t shirt at the finish, water stops every 5 miles and checkpoints every 10 miles with fruit and sweets provided and a bus trip out to the start at Glenbuck. Glenbuck feels as though it is at the back of beyond, but was the birthplace for the Liverpool football manager Bill Shankly and attracts fans from far and wide.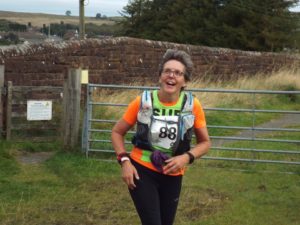 Glenbuck Loch is also the source of the River Ayr meandering 40 miles from Glenbuck to Ayr. The race has a net descent of around 800 feet but it is far from being an easy race. Those 800feet of descent are in addition to around 2,400 feet of climb. You drop to the river side, climb up to a cliff top and repeat, many, many times! The route is mostly off road with a few miles on tarmac and it was very wet and muddy underfoot.
Former Carnegie member Jo Murphy and I both toed the line at the start. Jo finished 4th overall and 2nd lady in 6:02. I finished a flattering 15th lady in 10:02, but really I was 2nd last! (I do like a race that is supportive to both front of the pack and back of the pack runners. ????)
If you enjoy a point to point run, on fairly well marked tracks, through a part of the country that rarely hosts races, then I would recommend this race. The organisers – EAST Ayrshire council – evolve and learn each year. This year they trialled gps trackers and timing and seem genuinely open to suggestions to improve what is already a good event. If you're not sure, there is always the relay option for teams of 3. One to consider for future years.
The scenery was varied and pleasant too. Did I mention the mud?