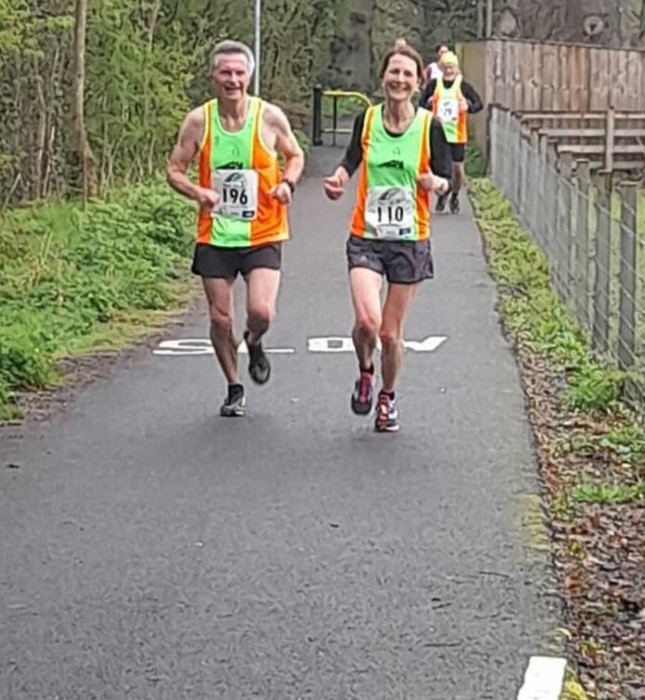 "Tay Ten" 10 Mile Race Report by Kieran Morgan
30 April 2023
The Tay Ten Race has been on the running calendar for around 10 years now. It replaced the Heaven and Hell Half Marathon in Perth Road Runners' list of organised events, a race aptly named as it was extremely hilly. The Tay Ten, in contrast, could hardly be flatter.
This is always a well organised and well supported race, mainly due to Perth Road Runners managing to maintain the air of a friendly, lower key event whilst ensuring that facilities, marshalling, chip timing and post-race recovery foods, rewards and recognitions are all spot on.
The race route starts on the back straight of the George Duncan Memorial Track in North Muirton, exits to the east past North Inch Golf Course to take an anti-clockwise loop of the North Inch passing Bells Sports Centre. This area is well known to many seasoned runners as it not only hosts the weekly Perth parkrun but has been the scene of many 50km, 100km, 12 hour and 24-hour championships over the years; events where many Harriers past and present have competed very successfully running continuous, mind-numbing laps of the 1.5mile loop.
Heading north out of the North Inch, the route becomes a bit more rural, largely following the west/south bank of the Rivers Tay and Almond as far as Almondbank. Here, at around 6 miles, the route heads inland through some leafy properties before a short section through Inveralmond Ind Estate takes the runners back onto the riverbank path around the 8-mile mark and a return to the finish line at the George Duncan track.
10-mile races don't seem as popular as they once were but this route offers excellent pb potential as it's mostly run on tar or hard-standing but retains a picturesque, trail feel to much of it. It is, as I've eluded to, pretty flat, with a total elevation of less than 30 metres. Most of any climb that there is, not surprisingly, is in the 1 mile to 6 mile stretch upriver and, after the 6-mile marker there is a definite feeling of the route becoming easier as it's very slightly downhill.
Carnegie Harriers Committee added the Tay Ten Race to our Grand Prix for 2023 and 23 Harriers ran the race. There were also a few notable Harriers, friends and ex-Harriers supporting and marshalling along the route. Thanks particularly to Karen Forsyth, Sarah Wellcoat, Keith and Tina Vandermotten from Pitreavie and Fabienne Thompson, ex-CH now PRR, for encouragement and pictures.
My own race was an interesting one. Joy Gudgin and I have had a few close races recently and we discussed how not to set off too fast, only to burn out in the latter stages. So, we loosely agreed to try and stick to running a steady sub-75 min pace. That worked well for us, and for Gary Evans too as we headed out within 10 secs of each other covering the first 5 miles in 37.08. I have met Gary at the gym a few times over the winter so I guessed he was in pretty good shape but just how good, I wasn't sure and this added an element of the unknown to the race too, I imagine for us both.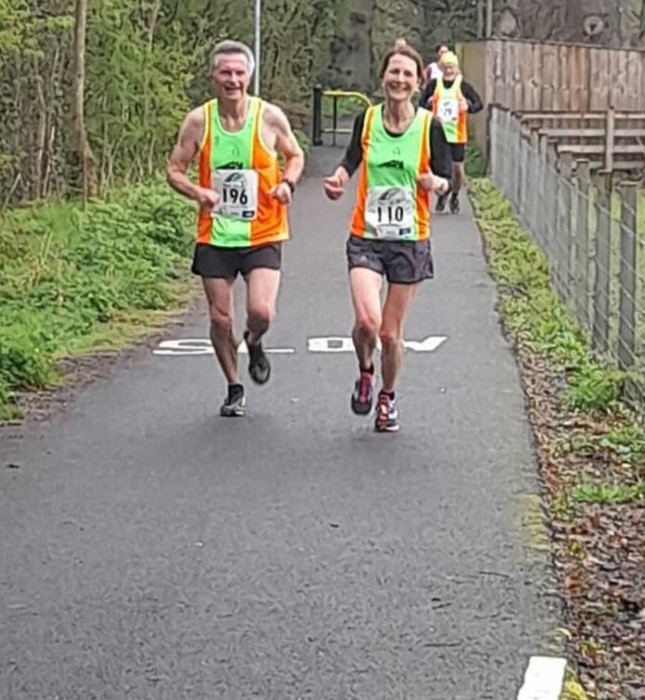 Photograph from Fabienne Thompson
Although the route is mostly on hardstanding, it wasn't without its tricky parts and I almost slipped sideways into thAlmond when negotiating the A9 underpass. The outer side of this path was covered in wet mud but hard to see in the dark and I very nearly came a cropper at this point.
As the path veered away from the riverside, I was feeling pretty comfortable with our steady pace and felt I could increase it a little for the last 4 miles. I had occasionally caught a glimpse of John Hynd ahead from around the 6-mile point and this further encouraged me to push on and try to catch him, which I managed at around 8.5 miles, a very rare occurrence indeed. I knew John must have been carrying an injury or something as he would usually be a minute or two ahead of me but, well a race is a race and it certainly spurred me on to the finish, knowing that John, Gary and Joy were only 30 or 40 seconds behind me on the run-in.
So, it was a good feeling to finish in my second best 10-mile time ever, 1.13.04 chip and a negative split by well over a minute. Myself, Gary and John placed 3rd, 4th and 5th M60, chip time too and Joy won 1st F50. Other close Carnegie finishes were fought out between Nils Krichel, Kev Spowart and Ross Hunter who all finished between 1.09.07 and 1.09.28. Gail Beveridge and Kath McCrorie also finished pretty much together. There were many Harriers' performances worthy of note but special mention goes to those who won their Age Categories, namely :-
Joy Gudgin            1st F50 in 1:13:56
Isobel Burnett      1st F60 in 1:17:08
Other Harriers who placed Top 3 were:-
Jane MacLeod     2nd F70  in 1:34:14
Kieran Morgan    3rd M60 in 1:13:04
Lastly, at the business end of the race, the finish itself was a very exciting affair with 3 runners together until the final sprint. Even then, the winner, Alistair Gudgin (Joy's son) of Fife AC retained his Tay Ten title by only 1 second from Mark McGuire. Alison McNeilly of Dundee Road Runners was 1st Female in 1:04:34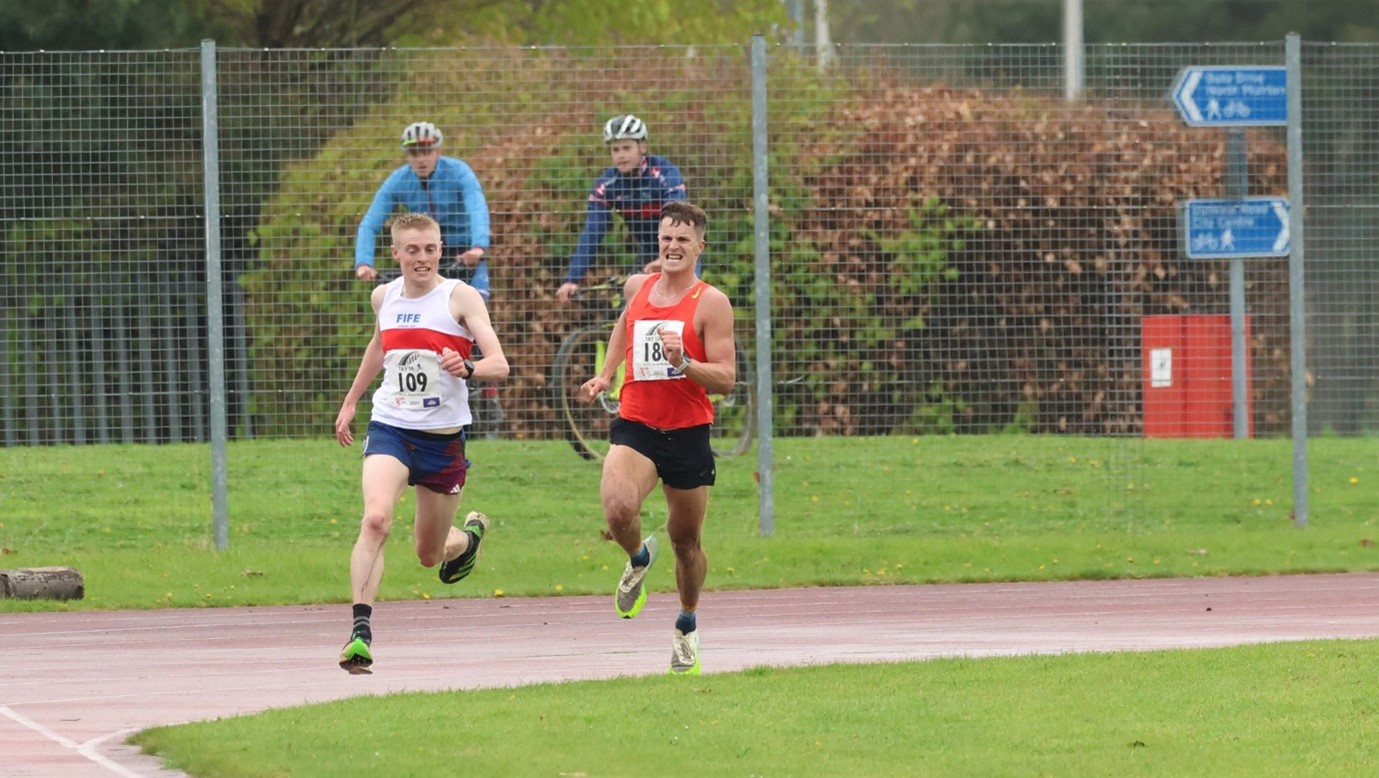 Photo from Brian Stewart Photography
Well done to all the Harriers who took part and thanks to PRR and to everyone involved in organising and helping.