Race Report by Kerry Hunter
Hot and Hilly Hunter's Bog Trot 
The sun was shining for the first GP encounter of the 23/24 season. Fourteen Carnegie Harriers donned their vests and gathered in Holyrood Park for the Hunter's Bog Trot Hill Race. It is a race around 6.5km in length with approximately 240m of elevation.
Hill running could not be further from my comfort zone! After a few chats with other club members, who reassured me I would manage, I decided to take on the challenge. Having only given birth 3 months earlier I was certainly jumping straight in the deep end with my return to "racing".
After a short stint on Queens Drive it was straight in to the first ascent. My lack of fitness was immediately evident. I couldn't have been luckier to have Phil Smithard give me tips for running up hill as he sailed past me. One thing is for sure, I was not the only entrant walking up the hill. Once I reached the top of this first hill, I was surprised to enjoy the descent, because as well as not being able to run up a hill, I'm too scared to run down them! Yes, you are correct in wondering why on Earth I entered a race in a discipline I have no experience in…the answer, I reckon I gave birth to my brain!!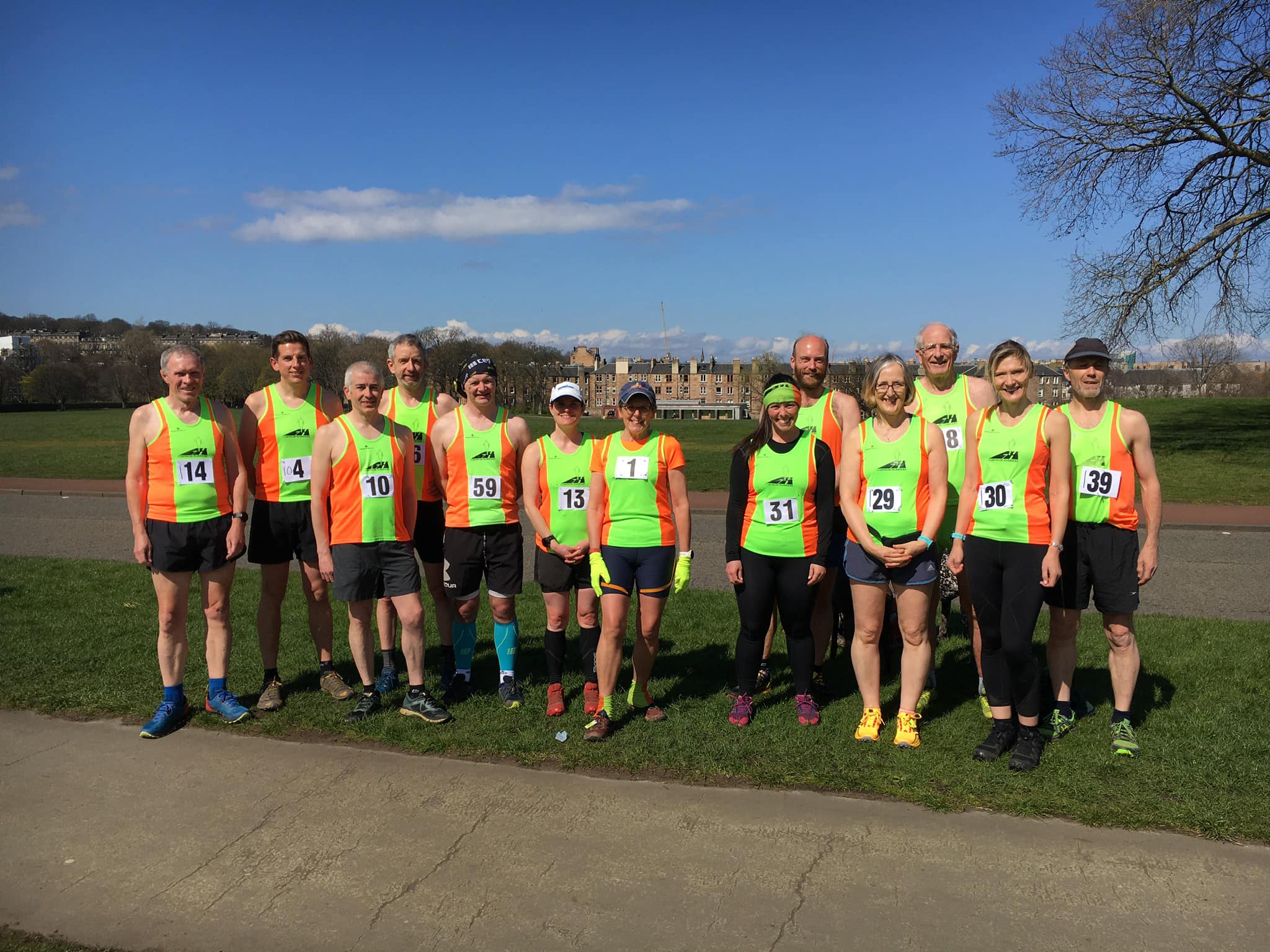 It was a lovely trail run after this point back round to the starting area which is also where the race finished. As I approached this area I spotted Jonny Millar finishing, the first harrier home. I had a bit of a slump before the next ascent, I had over dressed, under armour was not needed, it was very warm and as I tried to power on I realised it could have been worse, at least it wasn't raining! The final ascent was a steep one. Think bear crawl! I had the company of another runner and she disclosed that it was her first ever race! As I reached the top of that final ascent my smile couldn't have been bigger…the views over Edinburgh under the bright blue sky were stunning. The atmosphere was great, with tourists around, a piper playing and cheers coming from the Edinburgh derby happening nearby at Easter Road. I was more than happy to get going with the descent to the finish line. It was great to see other club members had made their way to spectate and support our wonderful club. Crossing the finish line was not only a sense of relief but real satisfaction. The reason I raced was to prove that these GP events are inclusive to everyone. I'm already looking forward to the next hill race!! 
Congratulations to Joy Gudgin who placed 1st V50 and to Gail Beveridge who placed 3rd V60. Thanks to all my club mates for a super day!