Smokies Race – Arbroath
Waking up for my first race of 2023, I wasn't really feeling it, but then I felt inspired by posts coming in that fellow Harriers Gail Murdoch & Steven King had just completed the Tokyo Marathon and Gail had now completed all six majors!
With my newfound motivation, I headed to meet Sarah & Charlotte for last minute car share arrangements. Smokies 10 mile race is organised by Arbroath Footers and is a women's only race with the course described as "scenic and undulating climbing steadily from 2 – 4.5 miles then generally flat". The race had a limit of 400 runners with 222 entries this year, following the similar trend of races not selling out therefore it was a relatively small running field.
Registration was at Arbroath Sports Centre, a quick trip to the toilets then back to the car to stay warm since it was a chilly morning. Thankfully closer to the race start time, the weather felt slightly warmer, so after another trip to the toilets it was time to head to the start line where we met the rest of the Carnegie Harriers.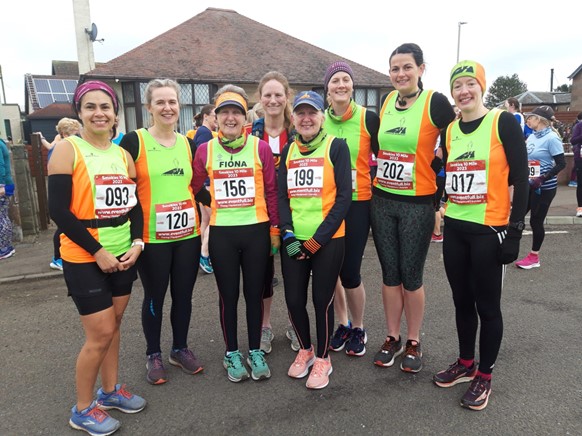 The first two miles headed west out of Arbroath on a relatively flat road before soon hitting the first short but steep hill which is also the start of a loop. This was where the undulating climbing started and continued for the next three miles.  Thankfully, there was a good downhill section before the undulations began again. At mile eight, you then find yourself back on the flat road you started out on heading back to the sports centre where there is a cheeky finish on the grass. The route is mainly on quiet roads with very little traffic with lots of friendly marshals cheering you on and two water stops on route.
Goodie bags at the end were great and had a mini bottle of prosecco as a reward and there was an after-race buffet with sandwiches, sausage rolls and so much traybake! Entry cost was £20 so I found the race outstanding value for money.
In total, we had eight Carnegie Harriers racing and special shout out to Fiona who was running her 29th and Pauline who was running her 31st Smokies race. A fab race, well organsied and so many treats at the end, looking forward to doing this one again next year.
POS       NAME                                GUN TIME          CHIP TIME
13           Charlotte Briggs               01:15:24              01:15:21
27           Sarah Wellcoat                 01:22:08              01:21:55
50           Sarah Marshall                  01:25:56              01:25:45
52           Clara Kay                            01:26:21              01:26:10
78           Fiona Rennie                     01:29:33              01:29:22
96           Pauline Walker                 01:32:02              01:31:49
119        Kath McCrorie                   01:35:56              01:35:45
156        Angie Parkin                      01:43:49              01:43:37