Race report Aberfoyle Trail Half Marathon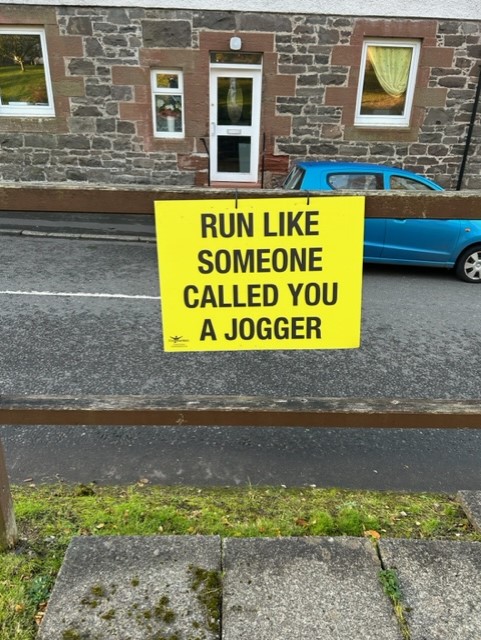 Yesterday, the 14th October saw the inaugural event take place. It was organised by Outsider Events who already organise both cycle and trail races. Aberfoyle was therefore not their first rodeo and the organisation didn't disappoint. Parking was easy and there were signs to it and also registration as you entered the village. The event village was based in the Riverside Car Park adjacent to the Co-op. The route, which runs clockwise, was well signposted and the marshals were lovely. There was some tarmac at the start and again at the end but otherwise the route was on forest tracks which were very good and dry underfoot. Most people were wearing trail trainers but road trainers would have been fine and there was no obvious evidence that the village had been under water seven days previously. There was one water station just after the halfway point where, as well as water (no cups), there were bananas, sweets, cereal bars and crisps.
The water bowsers were very hard to open and I had some difficulty but the marshal was over in a flash to help. So far you're all thinking that there's nothing negative to comment on. Well, I've saved the best to last. It was hilly – very hilly and I'm not great on hills. I really tried to run up the hills (slowly) but by mile 5, I was walking them. My Garmin told me the total ascent was 1331 feet. There were times it felt like more and early in the race I wondered if the lap for the 3rd mile would ever bleep! The RD said that most of the climbing was in the first 3rd and he didn't lie. He also said there was a kicker later on and he didn't lie about that either. There was a near vertical little climb as we were running along the south end of Loch Ard.
The cost to enter was £36.00. For that you got your dibber, a cereal bar when you picked up your number, well marked course, first aid, food at the water station, and a medal at the finish. You also got to run for 13.5 miles. Value for money is personal as some people were annoyed there was only a medal at the finish and no water/banana especially as there was only one water station. They were also very strict with the no cup policy and to bring your own.
Would I enter again? Probably. I and some others said it was tough but it's really beautiful and the weather on the day was perfect. It is Scotland so you have to go with the weather you get.