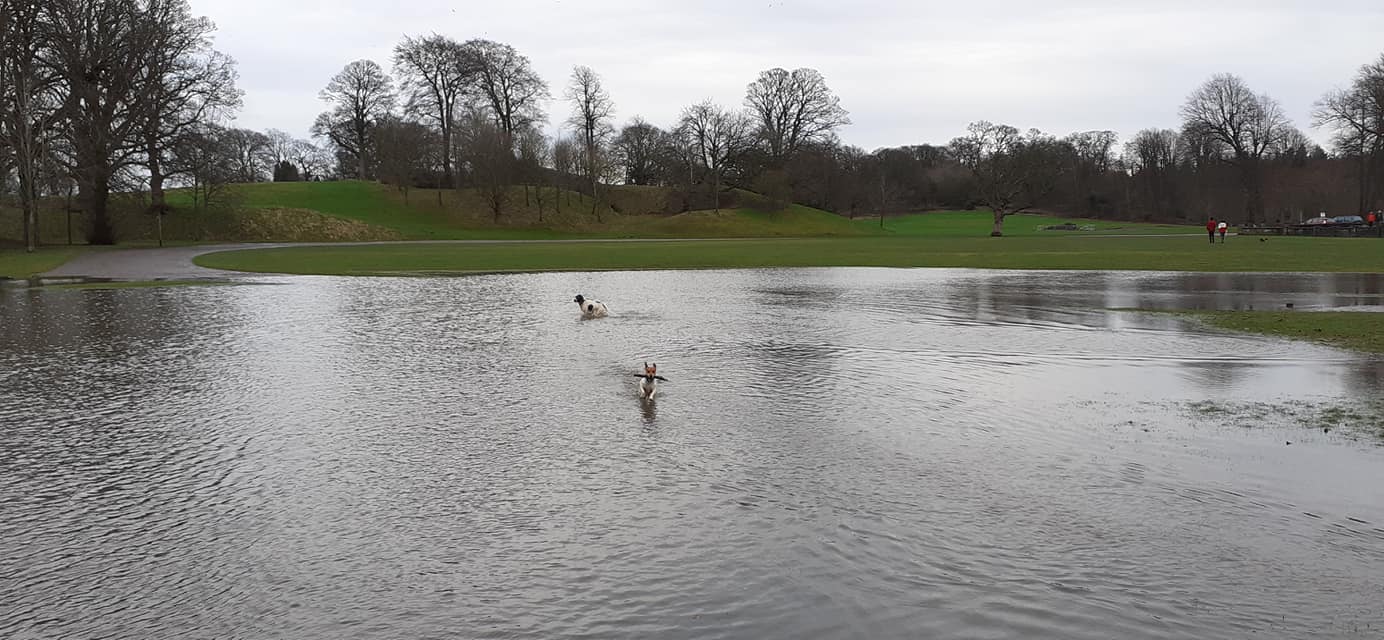 On Sunday 2 February, 8 Carnegie Harriers headed to Callendar Park to run around a loop for the Falkirk 8 Hour Ultra Trail Race, which is now in it's 4th year. There is the option to run this race solo or to enter as a relay team of 4 people. It's an early start with the race beginning at 8am but pre race prepping and tent/gazebo construction required before hand.The weather was forecast to be cold and wet and that is exactly what we got for the majority of the day with the rain stopping an hour or two before the finish. Plus we had been warned before hand that due to flooding, the route had been amended.
Due to a slight delay, the race set off at 8.15am onto the course which is a 3.8 mile loop on mixed terrain of tarmac, trails and woodland. During the first loop you start to get a feel for the course and the marshals who were great from the start to finish. All of them were very encouraging and upbeat, keeping you going and it was a tough shift for them standing in the cold and wet for that amount of time.
Very quickly the course become more and more muddier and slippy. Some runners lost their shoes in the mud while others were slipping and falling (…Karl!). It made it much more challenging and quickly I started to walk at the muddy sections to conserve energy and minimise the chance of falling.
With 1 hour left at 3pm the small loop opens, which again had to be amended due to the flooding, and it was a 600m loop which involved an incline. If you felt you could fit in 1 more big loop before the finish at 4pm then you could run it again, which I did, so I was only on the small loop for about 20 minutes but it was great! The atmosphere was incredible with all runners trying to get as much mileage in as they could and all the spectators, support crews, marshals cheering everyone on. You were also given a peg to put in the ground at the final whistle so every last step did count.
First Harrier home and overall winner of the race was Stuart Paterson covering an amazing 59 miles. A fantastic result!
| | | | | |
| --- | --- | --- | --- | --- |
| Position | Name | Time | Laps | Distance Done (Miles) |
| 1 | Stuart Paterson | 07:58:29 | 20 | 59.037 |
| 44 | Jonathan Millar | 07:15:04 | 11 | 41.8 |
| 63 | Andrew Spence | 07:56:33 | 16 | 40.482 |
| 64 | Sarah Wellcoat | 07:58:56 | 16 | 40.319 |
| 65 | Fiona Rennie | 07:56:43 | 15 | 40.143 |
| 111 | Karl Zaczek | 07:58:01 | 16 | 33.533 |
| 141 | Gemma McKee | 06:36:28 | 8 | 30.4 |
| 189 | Neil Anderson | 03:32:34 | 4 | 15.2 |
In your goodie bag you got a hoodie, medal, beer, penguin and sticker. This was my second ultra and I couldn't recommend it enough, so much so that I am thinking about possibly doing it next year. Well done to all team who ran and to those who came along to support crew and cheer us on. What a great day!