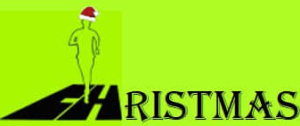 After one of the weirdest years, Carnegie Harriers were all looking forward to a good night out after our traditional Festive Forest race.  While we managed to fit in a real race in great conditions, we were limited to a night in rather than a night out.  It ended up as a really good fun evening.
Back to the FFR where conditions were wet and muddy, however as opposed to previous years, they were great for some fast times. The race took place within allowable 'race bubbles' based on individuals 5k times. Thirty two runners in three bubbles, all took part, with each bubble starting 30 minutes apart. Apart from the muddy section at the top of the course, underfoot was not so sticky and slippy as might have been expected for the time of year, resulting in some excellent fast times by many runners. A further seventeen runners ran the event solo, giving an excellent overall finisher list of forty nine!
Barry Dave (43:09) , Steven King (44:37) and new member Fraser Thompson (44:50) made up the top 3 with another new member, Nicole Jackson (48:09) finishing first Female, followed by Sam Laird (54:14) and Sarah Wellcoat (57:33). First Male V50 was Neil McLure (46:22), first Female V50 was Gail Murdoch (59:47), first Male V60 was Pete Simpson (49:19), first Female V60 was Isobel Burnett (01:02:58) with Phil Smithard (01:07:01) first Male V70. Full results can be found on the club website here. Traditional post-race hot punch and doughnuts were served up, before runners dispersed to get ready for the virtual evening entertainment. Well done all!
We had a great turnout of club members and their partners for our first Virtual prize giving and Christmas party.  Prizes were presented for the 2019/2020 Off -Road and Road GPs.   The overall trophies for both the Off-Road and Road GP went to Steven King and Isobel Burnett.  Both had a great year of running over all terrains.  Prizes were awarded in 12 categories for the Road GPs and we also had 6 completers.  In the Off-Road GP, prizes were again awarded in 12 categories and we had 2 completers.
After the hiatus caused by the first lockdown, club members were keen to get back to some form of racing even if it had to be virtual racing.  For the virtual GP, the overall winners were Barry Davie and Sam Laird and prizes were awarded in 25 categories and we had 4 completers.
As it has been a quite unique year, this called for unique prizes and mementoes.  A keen team of painters stepped forward to create these mementoes – Aimee, Angela, Fiona, Frances, Gemma, Kerry, Sue and Zuleika all rose to the challenge to create bespoke coasters for all prize winners and completers of the VGP
The Carnegie Harriers' big night in proved to be great fun.  We had a prize giving.  We had games.  We had goody bags (thanks to Sarah and Sue for putting these together).  We had a play list (thanks to Michael for this) and we had an MC coordinating the whole event from putting together a PowerPoint of all our winners to keeping us all in line – thanks to Alan for this.
The club rose to the dress code of black tie and posh frock with everyone looking dapper – at least until they stood up!  This year's must have accessory proved to be the infamous Brannigan shorts!
Party games were played with Nicole showing great determination in eating an After Eight.  Amazingly, the party carried on till well after midnight proving among other things the endurance of our club members!  While we all hope to get back to normal nights out next year, as a one off, this turned out to be a lot of laughs.